Robin Hood Origin Story Wants Kingsman Or X-Men Stars For Lead Role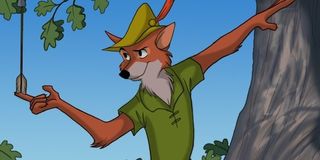 Origin stories are big in the superhero realm. On the pages of comics, characters that have been around for decades have had the tale of where they come from told and retold and reimagined numerous times. But this fascination doesn't stop there, as we're getting an origin story for Robin Hood (to be fair, 1991's Kevin Costner-starring Robin Hood: Prince of Thieves was also an origin story), and there are three young actors in the hunt for the lead role.
Deadline reports that a trio of up and coming young British actors are at the top of Lionsgate's wish list for the upcoming Robin Hood: Origins. On their shortlist are Kingsman: The Secret Service star Taron Egerton, Boardwalk Empire's Jack Huston, and Jack Reynor, from Transformers: Age of Extinction. The report also notes that The Maze Runner star Dylan O'Brien may also be in the mix, and perhaps X-Men: Apocalypse's Nicholas Hoult as well, though the first three seem to have the most interest from the studio.
Taron Egerton caught people's attention earlier this with his performance in Matthew Vaughn's adaptation of the comic Kingsman and has been on the tip of casting agents' tongues ever since. Scheduling could perhaps be an issue, especially if Kingsman 2 get the green light, and considering the first made $400 million, it likely will.
Jack Huston is best known for playing wounded World War I vet Richard Harrow on HBO's bootlegging saga Boardwalk Empire. He was attached to play the lead Eric Draven in the long-gestating remake of The Crow, though with the recent financial woes or Relativity, that could be in trouble, and maybe he'll have an opening in his schedule coming up.
Jack Reynor is currently filming another movie with the word "origins" in the title, Jungle Book: Origins directed by Andy Serkis (star of Dawn of the Planet of the Apes). According to the report, he had a "session" with director Otto Bathurst (Peaky Blinders), which could give him a leg up in the chase to play Robin Hood.
With both MTV's Teen Wolf series and at least one more installment in The Maze Runner saga likely on the way (I wouldn't be surprised if they split the last book in two, as is the pattern these days), Dylan O'Brien may also have some trouble finding space for Robin Hood: Origins on his calendar, if indeed the production wants to go with a non-Brit.
Though he may very well be done with the X-Men franchise after Apocalypse, Hoult has been garnering good notices for his work in that franchise, as well as the likes of Mad Max: Fury Road, Warm Bodies, and Young Ones. Like the rest of the names on this list, he's become increasingly in demand recently, and whether or not he lands this role, he should have no problem finding plenty of work.
Robin Hood: Origins is described as a "gritty, revisionist take on the legend" of the outlaw who robs from the rich and gives to the poor. It is also one of four Robin Hood projects currently in development. Disney is working on Nottingham & Hood, which is said to be high-adventure cut from the same cloth as Pirates of the Caribbean. Sony is producing the simply titled Hood, which is portrayed as a mix between a Fast and Furious movie and a Mission: Impossible film. I'm not entirely sure how that works either. Warner Bros. is also has one in the pipe.
With all of these Robin Hoods in the work, Lionsgate looks like they want to be the first out of the blocks as they get the pieces together for Robin Hood: Origins, and they want to get production started in the first quarter of 2016.
Your Daily Blend of Entertainment News
Thank you for signing up to CinemaBlend. You will receive a verification email shortly.
There was a problem. Please refresh the page and try again.