The Rock Saves The Day In Devastating New San Andreas Pic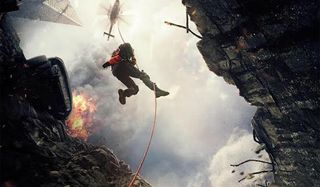 In case you missed it, Dwayne "The Rock" Johnson's next starring spotlight, San Andreas will have the former WWE wrestler laying the smackdown on his largest, most fearsome opponent yet: that jabroni known as the Earth's tectonic plates. Yes, it appears that the upcoming disaster epic will have Johnson running around the Earthquake-addled state of California, looking for solutions that his status as the designated protagonist will only allow him to exclusively implement. The film has released an impactful new poster for the film, which hopes to leave audiences dangling just as Johnson appears to be depicted.
Post by Dwayne The Rock Johnson.
The reveal of the new action-packed poster comes by way of Facebook post from star Dwayne Johnson. However, seeing as Johnson's character is supposedly the designated helicopter PILOT in San Andreas, let's just hope that he left something or someone at the control stick of the chopper from which he's hanging that's more proficient than some string tied to the seat. While movie posters tend to be abstract images that are often simply meant to convey concepts, rather reproducing actual scenes, it does appear that Johnson's character is being lowered in an ominous gaping maw to implement some anti-quake plan. (Either that, or his compulsions to go spelunking seem to trump all decorum of appropriate timing.)
As we learned in the recent trailer and what info is out there, Johnson plays Ray, an LAFD rescue pilot with marital issues with his significant other, Emma (Carla Gugino), and even worse issues with his daughter, Blake (Alexandra Daddario.) However, all of those domestic dilemmas will probably pale in comparison when the Earth decides that it would be a good idea to turn California into a giant wave pool made of dirt and concrete. Of course, that sort of thing tends to be disruptive towards family squabbles, and it looks like the city's rescue workers need to be ready for what could be the worst disaster the state has ever seen since… the last earthquake movie.
However, East Coasters digging themselves out of the snow to laugh smugly about the West Coast's seismic predicament may want to think twice. According to a scientist-type character played by Paul Giamatti, the impact of this quandary of a quake will not be restricted to the West Coast, and will be felt on the East Coast as well. Fortunately, though, denizens of the Unites States' two major Coastlines should not worry too much. Why? Because the weight of this rumbling, Earth-crumbling conundrum will rest on the muscular shoulders of The Rock! He'll ask it "What's your name?" and while the Earth stammers and shakes in its attempted response, he'll abruptly interject, "It doesn't matter what your name is!" (*Not an actual account of scenes from the film. Although, it would be sweet.)
The film will be directed by Brad Peyton, who actually directed Dwayne Johnson when he took lead in the 2012 franchise sequel, Journey 2: The Mysterious Island - and will do so again in an upcoming sequel. It will be interesting to see if more can be achieved with the already worn and torn genre that is the disaster movie. While Peyton's directorial resume seems to present more lighthearted fare, this could stand to be his first picture to carry a potentially serious tone.
San Andreas will do its best not to confuse people into thinking it's a movie about Grand Theft Auto when it hits theaters on May 29the... in 3D!
Your Daily Blend of Entertainment News
Thank you for signing up to CinemaBlend. You will receive a verification email shortly.
There was a problem. Please refresh the page and try again.