The Rock Won't Let Those Green Lantern Rumors Die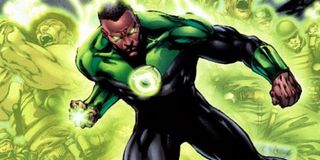 When rumors have no credibility, studios and celebrities tend to ignore them. Why bother addressing something if it has no basis in fact, right? So we find it curious that Dwayne Johnson keeps referencing DC Comics properties, teasing fans on social media and possibly tipping his hat as to the hero he could play on screen some day soon.
Let's run through a refresher course. At the start of this year, The Rock got fans pumped by revealing on Twitter that he'd met with the execs at Warner Bros. and DC about a future property. "We will partner up and create the cool bas assery," Rock bellowed, and despite the horrific grammar, glee was felt in the geek community. The rumor mill churned, and various reports linked Rock to the character of Green Lantern… specifically, the John Stewart version of the classic DC hero. Rock didn't deny it, because Rock knows how to fan the flames on social media.
Which brings us to today's developments. IGN clued into Rock's active Instagram page, where the actor created the hashtag #JohnStewartCanStillWhupSupermansAss:
IGN called Rock out on the revelation, because on the surface, it sure sounded like he's fessing up to playing Green Lantern in a JLA movie. They Tweeted:
And because he knows how to fans those flames (like I told you), Rock responded:
So, Rock believes Lantern "can" whup Superman's behind, but will he ever get the chance to? On every level, this sounds like a story that's too good to be true. We joke around the CinemaBlend offices that Rock is "Franchise Viagra," and adding him to ANY series makes the atmosphere instantly more electric. Saying he'd be a welcome addition to Warner's fledgling Justice League family is such an understatement, I feel stupid for having bothered to type it out. Just make it happen, D.C.
Now, is The Rock trying to simmer rumors down? Is he keeping the coals hot in hopes that something will strike? Or does he know what's coming, and he's teasing his fans ever so slightly, knowing that he'll blow the roof off in and when a Green Lantern casting announcement finally drops?
Stay tuned.
Managing Director at CinemaBlend. ReelBlend cohost. A movie junkie who's Infatuated with comic-book films. Helped get the Snyder Cut released, then wrote a book about it.
Your Daily Blend of Entertainment News
Thank you for signing up to CinemaBlend. You will receive a verification email shortly.
There was a problem. Please refresh the page and try again.