Ronda Rousey Sounds Pretty Nervous About The Road House Remake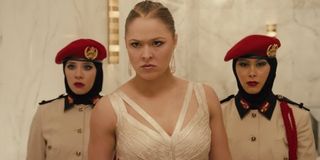 MMA fighter Ronda Rousey may have felt a nervous tic or two before her highly buzzed about match with Bethe Correia, but even that doesn't compare to starring in a remake of Road House. The Entourage movie and Furious 7 actress will portray Patrick Swayze's beloved character in a new film from MGM, and though she's clearly up for the challenge, it's got her shaking in her boots a bit.
While speaking with Entertainment Tonight about her upcoming appearance at the Marine Corps Ball, she vocalized her nerves in taking on the part. She said:
The original Road House, directed by Rowdy Herrington and released in 1989, starred Swayze as Dalton, hired as a bouncer to clean up The Double Deuce, one of the rowdiest bars in Missouri. This job eventually puts him in the position of protecting a town from a corrupt businessman. Rousey already has a loose tie to this film, and you've heard it twice before — "rowdy." Much like the director's name and description of the bar, Rousey took the term as her own in paying homage to her mentor, the late "Rowdy" Roddy Piper. The role is practically in her blood, though we know how testy fans can be when they hear remake, especially a female-led remake.
Paul Feig has been bearing the brunt of this backlash with Ghostbusters. He turned down helming a traditional sequel in favor of putting Kristen Wiig, Melissa McCarthy, Kate McKinnon, and Leslie Jones in the lead roles. And the fans still won't let Feig forget how he is "ruining childhoods" with this move. Rousey, on the other hand, seems to have a loyal fan base comprised of both sexes. Plus, she's so badass that any hater better thing twice before criticizing her new gig.
Since besting Correia in the ring, Rousey has gone on to field offers from every direction. She became the new face of Carl's Jr.; she signed on to star as herself in a movie based on her own autobiography, My Fight/Your Fight; and a horde of Marvel fans are campaigning for her to star in the Captain Marvel movie in 2018. She was even offered a mulit-million-dollar payday to shoot a few sex scenes for the Captain Marvel porn parody. Suffice to say, she's on top.
Your Daily Blend of Entertainment News