This Rotten Week: Predicting Labor Day and That Awkward Moment Reviews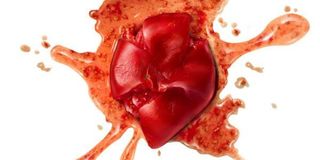 We're stuck in a deep freeze on the East Coast, which is fine with me. The outdoors are completely overrated. Especially when we've got some movies to talk about. This week it's awkward moments and falling in love with escaped convicts.
Just remember, I'm not reviewing these movies, but rather predicting where they'll end up on the Tomatometer. Let's take a look at what This Rotten Week has to offer.
Labor Day
If a strange, jowly, weirdly handsome, mountain-y, growling man came up to me in the pharmacy, covered in blood, saying he needed "help", a 10 year old Doug wouldn't have thought twice. I would have first asked for the secret word I established with my parents (Scooby-Doo) and when he couldn't produce said word, I would have politely informed him that I could not help him. He was a stranger, and strangers mean danger. Plain and simple. What would have happened? Not sure, but what wouldn't have happened is me taking him home, him turning out to be an escaped criminal, and then said man falling in love with my recluse mother. That scenario does not play out.
So goes Labor Day, Jason Reitman's new film about the tragedies of falling in love with an on-the-run convict who turns out to be a decent guy. On the surface, Reitman's new film looks the part, in line with his critically acclaimed resume that includes Young Adult (80%), Up in the Air (90%) and Juno (94%). But critics haven't fallen in love with it the way Kate Winslett goes for Josh Brolin. No, they've been lukewarm in their responses (62% through almost 40 reviews). The main criticisms seem to focus on the implausible nature of the plot, not so much the individual performances. Reitman's films often have a theme of taboo love, with characters falling for just the wrong person. This seems like that theme taken out to its nth degree. It's one thing to fall for a married business woman, or an older man, but an escaped convict? Critics seem to think it rings false.
Most likely reviews will continue to trend down the middle like this, with some critics enjoying the emotion and gravitas in Brolin/Winslett/Griffith's odd relationship. Others will dismiss the plot sight unseen and have trouble getting over that hump. Hey, I'm probably in the latter group. Dude comes up to me in the pharmacy and asks for help? He gets a kick in the shin and I give a toot on my danger whistle. The Rotten Watch for Labor Day is 57%
That awkward moment when you really want to like a movie because of the players involved and the fact that it's an R-rated comedy with guys you don't necessarily expect in that kind of thing. And then that awkward moment when you realize it looks bad and you don't want to hate it, but after watching an extended trailer and laughing almost not at all, well, it's awkward.
The comedy about a bunch of bros coming to grips with their waning bro-dom is awkward when played out to the cliche'd maximum. Dudes who are avoiding "relationships" with the opposite sex because it would somehow impair their ability to maximize, to the fullest, the spoils of the single sex. Only to find out that, oops, relationships are better even when your bros tell you they aren't. Plus there's a bunch of jokes revolving around Viagra, guys being naked around other guys, having a girlfriend being "dumb" and even a guy-is-so-excited-he-gets-hit-by-a-car joke that you can see coming a million miles away even in the trailer. I think this thing is going to be a real shame.
Look, I'm a huge fan of Michael B. Jordan, Miles Teller crushed in The Spectacular Now and Zac Efron is having a mid-career, badboy redefining that I think I'm going to like (see what he does in Neighbors). But as a whole, I think this thing falls well flat, possibly rubbing everyone the wrong way (pun maybe intended).
This is Tom Gormican's first work as a director (he also wrote the film), and is one of those movies I think we quickly forget about and watch the players move on to bigger and better things. Bro's will be bro's. Everyone will bounce back. The Rotten Watch for That Awkward Moment is 42%
This poll is no longer available.
Recapping last week:
Once again I'm right on the money with how a film will perform, saying it looks like a disaster and completely trash it in my writeup. Then, for some reason, I don't stick the prediction in the dumpster where I think it will end up. I hedge a bit for no apparent reason and end up with I, Frankenstein (Predicted: 26% Actual: 5%) as a miss when it should have been right on the money. This thing looked absolutely atrocious from jumpstreet, and I couldn't even make it all the way through the trailer. I ripped it as a disaster in the making. Why did I go in the mid twenties with the prediction? Why? Why? If you can't tell I'm very annoyed. New Year's resolution: stick your prediction in line with the write up. Done.
Next time it's Monument Men, Legos and Vampire Academy. It's going to be a Rotten Week!
Doug began writing for CinemaBlend back when Terminator: The Sarah Connor Chronicles actually existed. Since then he's been writing This Rotten Week, predicting RottenTomatoes scores for movies you don't even remember for the better part of a decade. He can be found re-watching The Office for the infinity time.
Your Daily Blend of Entertainment News
Thank you for signing up to CinemaBlend. You will receive a verification email shortly.
There was a problem. Please refresh the page and try again.