This Rotten Week: Predicting The Lucky One, Think Like a Man And Chimpanzee Reviews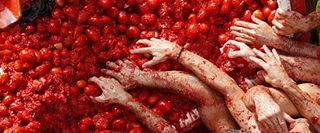 No time for messing around. I've got a tee time later this afternoon and a bunch of movies to cover before then. Ah hell, golf can wait, especially when we've got Zac Efron coming home from war, dudes having relationship trouble and chimpanzees looking cute as hell.
Just remember, I'm not reviewing these movies, but rather predicting where they'll end up on the Tomatometer. Let's take a look at what This Rotten Week has to offer.
The Lucky One
Underneath my chiseled, rough, and macho exterior lies a little piece of inner sap that gets a modicum of chills when watching the trailer The Lucky One. I mean you've got a love story, some military background, a farm of some sort, incredibly good looking people who are still somehow single and The Fray playing in the background. The foolishly sentimental cheesiness factor is off the charts. And I fall for it. But then the reasonable, logical and sane part of me kicks in a knows that this movie will blow. You almost had me trailer. You almost had me.
First we are to believe a guy like Zac Efron served three tours of duty in Iraq and still came back stateside looking he could re-up for another run through High School Musical (carefully grown stubble and all).
And then we remember this is an adaptation of a Nicholas Sparks book, he of the contrived sentimentality. Movie based on his books all fall in a similar, subpar range that can't be ignored when making predictions. Flicks like The Last Song (19%), Dear John (29%), Nights in Rodanthe (31%), A Walk to Remember (27%) and The Notebook (52%) make up the Sparks lineup and are an uninspiring list.
Director Scott Hicks (The Boys are Back-72%, No Reservations-41%) will try his best to tug at our heart strings and play with our emotions. He'll have characters kissing in the rain, employ a catchy soundtrack, and throw in some turmoil here and there. But I'm not buying it. It's a Sparks novel after all. The Rotten Watch for The Lucky One is 30%.
.
Think Like a Man
There are two different ways to think like a man. The first is the movie-style cliche'd way in which dopey, average guys do idiotic things to their insanely hot, out of their league girlfriends only to be taught some kind of life-altering lesson sometime in the final act. The second, and real way to think like a guy is to pine for the moments when you'll be able to sit around in your fourteen year old ripped boxers, sipping PBR and watching Die Hard for the 4,000th time. Unfortunately, Hollywood doesn't think you'd watch the latter premise, so we're stuck with the former.
Amazingly, Think Like a Man isn't about the mystery of how model-type professional women would ever be duped into buying a book written by comedian Steve Harvey, much less follow his advice on how to "flip the script" on the men in their life. But they do, and what apparently happens, is a movie that, according to some early reviews, might not be completely terrible (I'm as shocked as you, believe me). The ensemble cast includes some familiar faces and, by some early accounts, the script isn't completely off-putting.
Tim Story (Fantastic Four-27%, Taxi-10%) directs this tale of mismanaged male ideals and the women who not only stay with these dopes, but also yearn to "change" them in some way. The story has been told a thousand times, but this one might be better than others. The Rotten Watch for Think Like a Man is 57%.
.
Chimpanzee
A little challenge for all of you Rotten followers out there: if any of you watch the trailer for Chimpanzee and don't smile/ get some goosebumps/ consider tearing up a bit/ hold out a little hope for this f#$%ed up world we live in, well then make a cardiologist appointment because there's a good chance your heart has turned to blackened, charred lump of human waste. Sorry, but you are probably dead inside.
Cimpanzee comes from the treehuggers over at Disneynature films who know how to put together stories about the great outdoors. They've already given us two winners with Earth (87%) and African Cats (70%) so there stands a good chance their latest story of Oscar (or as I call him, the god-damned cutest thing I've seen in my whole life) will score well with critics. Directors Alastair Fothergill and Mark Linfield worked in some combination of those Disneynature films and they're back again here.
Everyone loves a good ape story (especially when they aren't becoming super smart and taking over the world) and this one has the makings of touching, heart-warming story people will love. Man, I'm really becoming a sap. The Rotten Watch for Chimpanzee is 85%.
.
This poll is no longer available.
Recapping last week:
Let me start with the worst first. I absolutely cannot believe The Three Stooges (Predicted: 9% Actual: 43%) scored this high. Of course I've been wrong about predictions in the past, but never after watching a trailer have I been more positive a flick would tank. The trailer was an absolute disaster. Critics must have seen something completely different. This was a legit shocker.
Meanwhile, Lockout (Predicted: 28% Actual: 33%) was right on point and another nice addition to the Rotten Resume.
And finally, The Cabin in the Woods (Predicted: 90% Actual: 92%) was almost dead on, but I said I wouldn't count it on my tally because so many reviews were in already.
Next time around, we have engagements, pirates, ravens and Statham. It's going to be a Rotten Week!
Doug began writing for CinemaBlend back when Terminator: The Sarah Connor Chronicles actually existed. Since then he's been writing This Rotten Week, predicting RottenTomatoes scores for movies you don't even remember for the better part of a decade. He can be found re-watching The Office for the infinity time.
Your Daily Blend of Entertainment News
Thank you for signing up to CinemaBlend. You will receive a verification email shortly.
There was a problem. Please refresh the page and try again.