This Rotten Week: Predicting Pan Reviews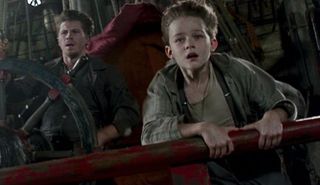 As we creep into the fall season, we're seeing a lot more titles start off in limited release before expanding nationwide. The unfortunate side effect, however, is that the early weeks are a bit slow around the cinematic universe. But that just means that it's a little kid named Peter's time to shine, with Pan getting set to arrive in theaters.
Just remember, I'm not reviewing these movies, but rather predicting where they'll end up on the Tomatometer. Let's take a look at This Rotten Week has to offer.
Rotten Watch Prediction
What if I told you there was a land in another world where children never grew old and magic prevailed? Would you be interested in going to such a place? Me neither. Kids are bad enough as it is. What with them needing things like food and sleep and whatnot. Always crying when you're watching movies or football, wanting to be played with or paid attention to. Now these kids are just never growing up and rule the roost? No thanks. And yet, we still continue to find our way back to Neverland and the tale of Peter Pan.
See a reimagined version of the world in the Pan trailer below:
In a reworked origin story no one was asking for, director Joe Wright's Pan tells the tale of a young boy named Peter living in an orphanage and getting transported to Neverland. It's somewhat unclear what's happening beyond those plot points. A majority of the trailer appears a visual, schlocky mess with people yelling, poorly-staged CGI, over-acting and no real story. I pretty much just got the following: kid gets carted off to Neverland and it's f@#$ing crazy there!
Critics have backed up some of these concerns in their early reviews. It's currently sitting at 45% on the Tomatometer, and there's little reason to think it increases much at all over the course of the week. Primarily, critics took issue with just how overly visual the whole spectacle was in the aggregate. They also think it goes on too long for very little story. That's a big problem. I suppose it'll appeal, on a pomp and circumstance level to a certain age group, but I expect that target audience is a small one.
Joe Wright has helmed some decent movies in Hanna (71%) and Anna Karenina (63%). But those are very different films from a live action fairy tale. While I suppose there's a story about Peter, Hook and all the rest of the crew out there to be told, this doesn't seem the one.
Pan is the kind of movie that comes around when the Hollywood edict is "tell old stories in new ways, cost or need be damned." And while it might do fine enough at the box office, critics won't be coming around in their reviews.

This poll is no longer available.

There was only one flick last week as well with Ridley Scott's The Martian (Predicted: 90% Actual: 94%) finding its way into theaters. I had a big time head start with the reviews, so I won't take a ton of credit. This movie arrived at maybe the most advantageous time one could ever reasonably expect, as NASA just recently announced they'd actually found flowing water on Mars. While I'm sure the two things weren't timed (were they?), it was nothing less than a boon for a flick already crushing it with critics. CB's Sean O'Connell called it one of the "year's most enjoyable and exhilarating films" in his review. This was right in line with the rest of the critical community who praised it front and back.
The Martian appears the perfect mash-up of lone hero story, space story and everyone's favorite "Matt Damon vehicle". (Or at least my favorite.) And it's a good sign that a Hollywood, big budget movie can also have a heart while appealing to the sci-fi crowd as well.
Next time around we've just got a big one with Bridge of Spies, Crimson Peak and Goosebumps. It's gonna be a Rotten Week!
Doug began writing for CinemaBlend back when Terminator: The Sarah Connor Chronicles actually existed. Since then he's been writing This Rotten Week, predicting RottenTomatoes scores for movies you don't even remember for the better part of a decade. He can be found re-watching The Office for the infinity time.
Your Daily Blend of Entertainment News
Thank you for signing up to CinemaBlend. You will receive a verification email shortly.
There was a problem. Please refresh the page and try again.