This Rotten Week: Predicting True Grit, Little Fockers, And Gulliver's Travels Reviews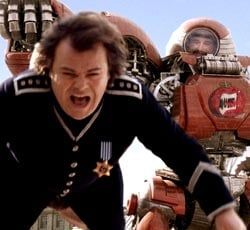 Christmas came a little early last week for the Rotten Watch when Santa slid down the chimney and promptly dropped a giant turd in my stocking. The predictions were way, way off and the mood around the Rotten Week offices (my living room) is glum. We'll try to get back into the holiday spirit this week with the Coen Brothers, Jack Black and the Fockers headed to the screen.
Just remember, I'm not reviewing these flicks. Instead, I'm predicting their Tomatometer score. Let's take a look at what This Rotten Week has to offer.
Let's start with a movie where the consensus is pretty much in. Can't be too far off with this one. Having the Coen Brothers behind the camera make it relatively easy to give a higher score without the advantage of early reviews.
The Brothers Coen make good movies. Their last three flicks, A Serious Man (89%), Burn After Reading (78%), and No Country for Old Men (95%) are all high on the Tomatometer so there would be no reason to expect their latest to trend any differently.
In True Grit, the brothers adapt an adaptation (1968 book and 1969 movie) to tell the story of a little girl looking to exact revenge on the guy who killed her father. And the cast is all-star. Jeff Bridges, Matt Damon, Josh Brolin and even my boy Barry Pepper show up in this Western.
A bunch of reviews are already in and this movie looks like the goods. The Rotten Watch for True Grit is 92%.
Gulliver's Travels
If I ever found myself trapped on an island with a bunch of really tiny people who worshipped me like a god, I think the first thing I'd do make a bunch of bad jokes, act like a total buffoon and just generally suck all of the funny out of the situation. Look at that, Jack Black and I have something in common.
Gulliver's Travels looks like one of those movies you don't see in the theater, but happen across two years from now while clicking through the movie channels real late some Saturday night. You decide to turn it on forgetting why you didn't want to see it in the first place, watch for ten minutes, and then turn the TV off and head to bed.
Admittedly, Jack Black (outside of Year One - 14%) has been in his fair share of well-received movies. But most often his gift is working around the periphery. When the camera's on him solely, it becomes a little much.
I don't think this latest movie will be a total critical disaster, but it won't score off the charts either. The Rotten Watch for Gulliver's Travels is 46%.
Little Fockers
Why? That's all I really want to know. Why? Why make this movie? Outside of the cast just wanting to get back together to have a good time and crack dumb jokes, I just don't see why we need another installment of the Fockers.
This is a classic example of Hollywood not leaving well enough alone. First we get a legitimately funny look at a guy meeting his girlfriend's parents for the first time with Meet the Parents (84%). Then everyone tries to bring the magic back with terribly diminishing results in Meet the Fockers (38%). And now we get the (hopefully) final chapter of this Focking disaster.
The gang's all back for this one with Paul Weitz (American Wedding 56%, About a Boy 93%) taking over the directing chair from Jay Roach, who produced the first two Fockers movies. From the looks of the trailer, he doesn't bring back the strength of the original. The Rotten Watch for Little Fockers is 36%.
Country Strong
I don't get country music. Don't listen to it. Don't own a pickup truck. Never wore cowboy boots. Look like a fool in the ten gallon hat. And most assuredly have no little hint of country twang in my demeanor. Yet there's is a whole host of flyover state folk out there who can't get enough of the stuff, so what do I know?
Country Strong follows the story of an up and coming country singer (Garret Hedlund) falling in with the first person I think of when country music comes up, Gwyneth Paltrow. They sing a bunch of songs, dance around the stage, spit out Southern slangalities and take a hard look at the big business of singing about Budweiser and hunting.
Shana Feste (The Greatest -51%) directs and even with my non-country leanings, the film doesn't look half bad. I just won't be buying the soundtrack anytime soon. The Rotten Watch for Country Strong is 58%.
Swipe to scroll horizontally
This poll is no longer available.
Recapping last week:
Oh boy. (Shakes head). Oh man (Puts hands over face, quietly weeps). Oh brother. Last week went from bad, to worse, to stunningly awful. It was one poor decision after another. I was rightfully admonished by commenters the second they read my Yogi Bear (Predicted 39% Actual 13%) prediction. It was too high. So I should have seen that one coming.
But after that the hits just kept on coming. How Do You Know (Predicted 75% Actual 36%) was a disaster for everyone involved and Tron Legacy (Predicted 71% Actual 48%) was another huge miss after a slew of last minute negative reviews dropped the sequel's score. We've had relatively strong run, but this week The Rotten Watch crashed down to earth. Now we have some work to do, putting the pieces back together again.
Next week, we take a holiday break to regroup for the new year. It's going to be a Rotten Week!
Your Daily Blend of Entertainment News
Doug began writing for CinemaBlend back when Terminator: The Sarah Connor Chronicles actually existed. Since then he's been writing This Rotten Week, predicting RottenTomatoes scores for movies you don't even remember for the better part of a decade. He can be found re-watching The Office for the infinity time.