Runner-Up For Henry Cavill's Superman Role Was British Too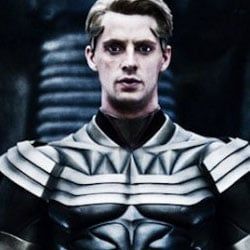 Over the weekend we were all dumbstruck by the seemingly out of the blue announcement that Brit Henry Cavill has been cast as the new Clark Kent in director Zack Snyder's upcoming take on Superman. Initial fan reaction so far seems to be mixed, with some hung up on the idea that Cavill is British while Superman is traditionally supposed to stand for "Truth, Justice, and the American Way". You'd think he must have beat out a lot of American actors for the part but, here's the strange thing, it seems like British actors were just about the only people Synder was interested in for the part.
THR says Cavill's stiffest competition for the role came from fellow Englander Matthew Goode. Other less heavily considered contenders for the iconic blue and red tights did, however, skew more towards American actors. Those others included soap actor Matthew Bomer, Social Network's Armie Hammer, True Blood's Joe Manganiello, and Colin O'Donaghue who appeared this weekend opposite Anthony Hopkins in The Rite and is, incidentally, Irish.
Cavill though, has been fighting for this part nearly a decade now. He was a top contender back in the mid-2000s before Bryan Singer's Superman Returns went into production, in the days when McG was still in charge of the project and scaring the hell out of nearly everyone with his pretty horrible ideas about how Superman should be done. Matthew Goode on the other hand has had his shot at playing a superhero, as Ozymandias in Watchmen. Even as someone who loves that movie, I have to admit, he wasn't great. Cavill was the right man for Kal-El's cape.
Your Daily Blend of Entertainment News