Rush Hour 4 Could Be More Likely Than You Think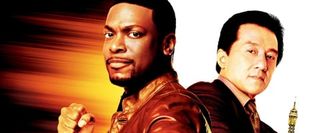 When you've got a producer with a successful franchise from the past, you can pretty much guarantee he'll be trying to figure out ways to keep it alive, no matter how likely that is. So when we tell you that producer Arthur Sarkissian, the guy behind the Rush Hour series as well as TV's Vegas, is talking about making more Rush Hour movies, your first reaction should be "Well, duh." But wait-- he's not just talking up his own ideas. Apparently he's got some of the big, important names on board as well.
Talking to Crave Online, Sarkissian said he wasn't just "working on Rush Hour 4," but that Chris Tucker and Jackie Chan were both involved as well. And yes, they're as eager to get away from Rush Hour 3 as everyone else is:
Pressed for plot details Sarkissian mostly seemed to be spitballing, and he said they're still looking for a screenwriter-- and that even bringing back director Brett Ratner, who was responsible for the previous three films, wasn't a given. "If he wants to do it he's more than welcome to do it but he's got to do it in the right way." Ouch.
Since Rush Hour 3 came out in 2007, Chan and Tucker have talked about reuniting, but in reality set off on totally different career paths: Chan is releasing what he's calling his last hardcore martial arts film with this year's Chinese Zodiac, while Tucker has filmed his first role in 5 years, in David O. Russell's Silver Linings Playbook. A reunion between the two of them isn't totally impossible, but for now I'm chalking this up to an enthusiastic producer more than a film likely to go into production any time soon.
Your Daily Blend of Entertainment News
Staff Writer at CinemaBlend
Your Daily Blend of Entertainment News
Thank you for signing up to CinemaBlend. You will receive a verification email shortly.
There was a problem. Please refresh the page and try again.