Sam Rockwell May Take Care Of Sweet Baby Jesus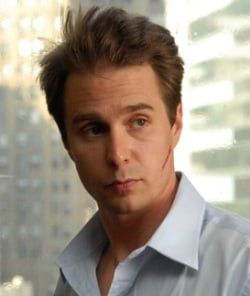 Sam Rockwell's career has gone all kinds of odd directions lately in a way that seems to be turning him into a star-- the critically lauded performance Moon, the jazzy side character in Iron Man 2, etc. etc. But the Rockwell who made odd little comedies like Choke and Confessions of a Dangerous Mind isn't gone either; Deadline Hollywood reports that Rockwell is in talks to star in Sweet Baby Jesus, a comedy that takes its own spin on the birth of Christ.
Rockwell would be starring opposite Pixie Lott, a girl who's apparently the British equivalent of Lady Gaga, but with fewer crazy costumes and more acting ambitions. She also doesn't seem to be a porn star, despite everything the name might suggest. Lott is playing Mary and Rockwell is playing Joe, an expecting couple who arrive in Bethlehem, Maryland and eventually convince the townspeople that they're about to witness the Second Coming. Bette Midler is on board to play the innkeeper, while Kim Cattrall will play Mary's mother, Darlene-- I don't remember her being part of the original Bible story, but when the action gets moved to Maryland, I'm sure things have to change a little.
The director is Peter Hewitt, who gave us the Garfield movie, but also Bill and Ted's Bogus Journey and last year's comedy The Maiden Heist, which starred William H. Macy and Morgan Freeman but got caught up financing troubles the kept it from getting theatrical distribution. This movie might be the break he needs, and with Rockwell on board, he's at least taken the first step in the right direction.
Your Daily Blend of Entertainment News
Staff Writer at CinemaBlend