Samuel L. Jackson Wants To Make Unbreakable 2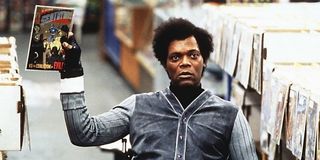 Unbreakable starring Bruce Willis as the unbreakable man was released in 2000, and director M. Night Shyamalan and his actors are still talking about a sequel that may never happen. Mostly everyone seems to be on board, including Samuel L. Jackson. While Shyamalan said earlier this year that Unbreakable 2 would be cool, his actor recently said that he's game to return as Elijah Price.
Amid the Batman v Superman, Deadpool and all-around Comic-Con heavy previews, Entertainment Weekly published an oral history of Unbreakable. Shyamalan, Willis and Jackson were among the dozens of people interviewed for the feature tracking the production of the film, but closing off the conversation was an interesting tidbit about a potential sequel. Jackson, of course, got the last word on the matter.
Unbreakable featured Willis as David Dunn, a security guard who discovers that he has superhuman abilities. Returning from a job interview, he is involved in a train accident that kills 131 passengers and leaves him walking away without a scratch. Samuel L. Jackson's Elijah became obsessed with David. Having a rare disease that makes his bones easily susceptible to breaking, he believes David is the opposite of this genetic extreme and is the type of being after whom comic book heroes are modeled. Ultimately, Elijah proved to be much more villainous than he appeared, and was ultimately committed to an insane asylum for acts of terrorism. But here's hoping he breaks out.
Shyamalan said in EW's oral history that he ultimately doesn't know the fate of Unbreakable 2, but that he believes there might be a place for one in our current comic book movie-obsessed culture. As he implies, there could be a need for a more real-world connection with these fantasy worlds. Back in January of this year, the filmmaker said that Unbreakable feels like a drama instead of a comic book movie. Though he still hopes that a sequel is possible, he says it should never feel like the genre.
Patton Oswalt, one of the most glorified geeks of us all, firmly believes that Unbreakable's story should be continued, even going as far as to say it should be a trilogy. In a video interview with Screen Junkies, he notes that the end of Unbreakable sees news clippings pinned on the wall that suggest there are other "unbreakables" in the world and that David should now go and recruit is own Justice League of sorts. Oswalt then goes further to say that a third installment should focus on Elijah forming his own supervillain team in the asylum and breaking out to steal David's blood to make himself unbreakable. Watch Oswalt explain in more detail below.
While these are awesomely fun ideas, talk of Unbreakable 2 has been going on for years and we haven't seen anything yet. So let's not get our hopes up.
Your Daily Blend of Entertainment News
Thank you for signing up to CinemaBlend. You will receive a verification email shortly.
There was a problem. Please refresh the page and try again.