Watch Patton Oswalt's Dream Pitch For Unbreakable 2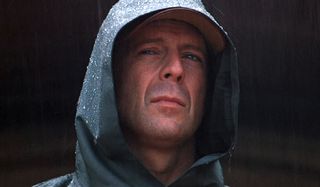 Patton Oswalt is a nerd's nerd. He can wax lyrical about different facets of pop culture in a vivid, passionate and original manner, plus, as he's a comedian, he can do it in a much funnier fashion than most people. That should make him a little bit loathsome, but in fact it makes him a bona-fide hero. And in this role, Oswalt has come up with a rather spiffing idea for a possible Unbreakable sequel, which you should all immediately listen to below.
I'm sold. That's right: not only did Patton Oswalt come up with a possible plot for Unbreakable 2, but he's also already fully devised an outline for Unbreakable 3 as well. And both of Oswalt's ideas don't sound half bad either.
Oswalt believes that there is still plenty of room to evolve the franchise, and he has already worked out what a sequel - which he would title Unbreakables - would be about. Basing the plot off of the various newspaper clippings seen in the final scene of the first film, the second chapter of the series would revolve around Bruce Willis' David Dunn recruiting other people who have survived various scenarios that should have cost them their lives – including train crashes and mudslides. All the while he would also begin accepting who he is, but also struggling with exactly what that means. Sadly, this struggle would not end well, as it would ultimately either cost him his marriage to Robin Wright's Audrey Dunn, or perhaps the life of his son.
Then, in the final instalment to the franchise - titled Broken - Samuel L Jackson's Elijah a.k.a Mr. Glass, will escape from the insane asylum that he has been locked away in, and will go hunting for David Dunn in order to steal his blood and make himself Unbreakable. Helping him in this process would be other supervillains like himself – whom he could have met while planning all of his terrorist attacks.
Great as Patton Oswalt's idea is for both Unbreakable 2 and Unbreakable 3, I must admit that there is one serious problem with his idea: he would want M Night Shyamalan to direct these films. Admittedly, Unbreakable was a film that showed the world that Shyamalan had legitimate talent when it was released back in 2000, but film fans will be quick to remember that the years since then have not exactly been kind. Rather than being unbreakable, the filmmaker's track record over the last decade has been as weak and fragile as glass – and as a result it's hard to trust him with the material. That being said, it's still a cool idea.
Your Daily Blend of Entertainment News
Thank you for signing up to CinemaBlend. You will receive a verification email shortly.
There was a problem. Please refresh the page and try again.