Sandra Bullock Won't Join Clint Eastwood In Trouble With The Curve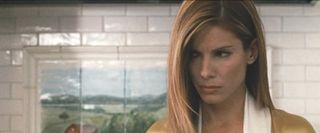 A month or so back we told you that Sandra Bullock was in talks to play Clint Eastwood's daughter in the baseball drama Trouble with the Curve. Apparently those talks weren't satisfactory, because now Twitch says that Bullock won't be appearing in the film after all.
Eastwood stars in Trouble as an aging baseball scout whose eyesight has begun to go bad on him. He decides to take one last trip to check out a promising pitcher before his peepers become totally useless. Bullock would have played his daughter, who accompanies him on the trip. Based on a script by Randy Brown, Trouble with the Curve also marks the directorial debut of Robert Lorenz, Eastwood's business partner and AD on previous films such as Million Dollar Baby and Mystic River.
Trouble isn't targeted to hit theaters until 2013, so they've still got plenty of time to find a replacement. Twitch says the producers now have their eyes on Amy Adams or Reese Witherspoon for the role. Too bad for Bullock, as it seems like this sort of thing could only be good for her career. After having won the Oscar for her performance in The Blind Side, I'd think starring alongside Clint Freaking Eastwood in likely Oscar Bait would be just the thing to propel the second act of her career, especially with another good role in Extremely Loud and Incredibly Close coming next month. Not to mention help us forget movies like All About Steve and oh crap now I mentioned it and there goes all the hard work I'd put into trying to fumigate that horrible movie out of my brain.
Your Daily Blend of Entertainment News
Thank you for signing up to CinemaBlend. You will receive a verification email shortly.
There was a problem. Please refresh the page and try again.