Scoot McNairy Joins Brad Pitt And Michael Fassbender In Twelve Years A Slave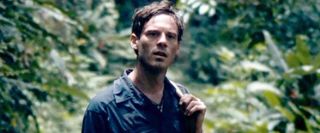 After his fantastic first feature film, 2008's Hunger, Steve McQueen quickly became a director to watch. His followup, Shame, not only found similar critical acclaim, but once again featured the British filmmaker working with leading man and budding superstar Michael Fassbender. And while Fassbender's work with McQueen is anything but mainstream, their relationship has already created two wonderful performances and should have everyone highly anticipating their third film together, Twelve Years a Slave.
The new project will continue their history of delving into difficult subjects, since Solomon Northrup's 1853 memoir tells his tale as a free man and violinist who is tricked, kidnapped and then sold to a Louisiana cotton plantation. Chiwetel Ejiofor will star as Northrup while Fassbender is on board as a plantation owner. While those two names are exciting enough, that's only the tip of the iceberg for the period drama's ever expanding amazing cast, as Twelve Years a Slave also features Brad Pitt (whose Plan B production company is behind the project), Paul Dano and Pariah breakout star Adepero Oduye.
Variety reports that two more rising stars, Scoot McNairy and Ruth Negga, have also just joined the film. McNairy will soon be seen opposite Pitt in Andrew Dominik's Killing Them Softly (which just released this 'too cool' poster). I guess he must have made quite the impression on the recent Academy Award nominee since Plan B is bringing him on-board their prestige project. In Twelve Years a Slave, McNairy will play a 'shrewd circus worker' who schemes to sell Northrup into slavery. The actor has been making big waves since starring in the low-budget sci-fi flick Monsters and can next be seen in both Ben Affleck's Argo and Gus Van Sant's Promised Land.
McQueen's period drama also added Negga to the impressive ensemble in a role described only as 'a runaway slave.' Negga just starred with Samuel L. Jackson in The Samaritan and has landed increasingly bigger television projects over the last few years. This is quite the opportunity for the young actress to make a name for herself since Twelve Years a Slave could find her on-screen opposite ones like Pitt, Fassbender, Ejiofor, Oduye and now McNairy. The film is set to start production at the end of June for a 2013 release.
Your Daily Blend of Entertainment News