The Score Board: Guardians Of The Galaxy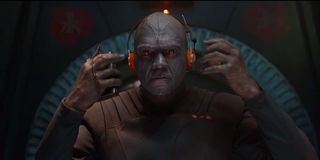 While the average audience member might not automatically process this, the overall sound of a film is pivotal to our enjoyment. When it comes to composers, it's almost as if they're engineering their own films away from the filmmakers, with elevated action, moody drama and swooning romance. What's unique is hearing the music of the film, then heading home and hearing it on your own. The mark of a great composition is that it complements the movie perfectly, but on an independent listen, it creates new images all its own inside your head.
This week, we're going back into the world of Marvel for the compositions at the heart of Guardians Of The Galaxy, from regular James Gunn collaborator Tyler Bates. Bates is known for more modest genre stuff, so this is very familiar territory for him, as Marvel tries one of its least-decorated composers yet. There's much to discuss, and some of it may be vaguely spoilery, though we'll try not to mention any plot details.
Who's Responsible?
Tyler Bates is something of a freelancer, moving in between the worlds of television, movies and video games, often contributing only a single track or two. His scores for horror films like The Devil's Rejects, See No Evil and Halloween tend to be minimalist but heavy, relying on atonal, grinding vibration. He has been capitalizing on new horizons in the mid-aughts in his work with Zack Snyder: he melded electronic material with traditional horn-based orchestration on 300. But his most ambitious undertaking was Watchmen, which spotlights different parodies and mock-ups of other scores, from the dreamy electronic vibe of Vangelis' Blade Runner themes to the relentless soundscapes of Hans Zimmer's Dark Knight work. Oddly enough, Bates hasn't appeared on a soundtrack in three years – his latest credited film work was for the little-seen thriller The Darkest Hour. This is his third collaboration with director James Gunn, following Slither and Super.
What's That Sound? Bates' scores are usually overshadowed by working with directors who adore pop music. As such, Bates doesn't have to provide nearly as much recorded material as some other composers when he's working with someone like Gunn or Rob Zombie. However, the tone was going to be a big part of establishing this world, so Bates has gone big, producing a series of sloppy, big budget compositions that give the hard sell to an audience looking for generic genre thrills. Even though Guardians Of The Galaxy has a number of pop music-scored moments, there are several action sequences that need the big compositions behind it, as is tradition with big blockbusters.
The end result is pretty anonymous, actually, and it wouldn't be surprising if the stronger moments are borrowed from other composers: huge chunks of this score seem to borrow from Brian Tyler's work on Thor: The Dark World, while it also feels like they've snuck Alan Silvestri's Avengers fanfare in there. There's no consistency from track to track, as if Bates is trying on various blockbuster cliches, like staccato violin crescendos or vibrating synth. An independent listen separate from the film feels like several scores being played all at once, none too inspired. Bates wins the award for Most Composing – none of the more interesting rhythms earn significant callbacks, and many simply melt incongruously into each other.
You get the feeling with the Marvel films that, thus far, the composers have been aided by the fact that the heroes of certain films were more understandable, well-defined, leading to mildly anthemic compositions. But no one really knows the Guardians, which means Bates needed to find a meaning to a relatively amorphous team concept. What couldn't have helped was Gunn's insistence that Bates record a few of the tracks in advance so that they could film with the original core. It's easy to imagine, with most of this music, that Bates simply had no idea what he was scoring.
Standout Track:
The character Groot gets his own theme, and during a wonderful moment in the film where he shines a light for the crew, a lovely, muted version plays, called Groot Sprouts. Surprisingly, it's the smaller moments of the score, not a Bates forte, that shine the brightest, and this one seems to effectively combine the big studio sound with Bates' own minimalist, low-budget synth feel.
How It Plays Within The Movie:
As mentioned before, the moments with Groot shine, mostly because he doesn't talk much, allowing his theme to resonate. Aside from that, the uptempo tracks underline the movie's action sequences well enough, with the main theme surfacing during moments of heroism. But mostly, the music isn't necessary heard, frequently giving way to the film's considerable pop music catalog.
Perfect Listening For:
Does your kid need some super heroic music for a school presentation, but you don't want to play anything too familiar? Bingo. Your kid's gonna love you.
What's In My IPod?:
-Tyler Bates, Watchmen: I went back to listen to this in hopes it would jar some meaning behind Bates' new gig. Bates' work on this film remains unparalleled, the one undervalued element of a controversial movie. Each character gets their own theme, and you can tell where and which classic films of which they're derived.
-Toto, Dune: Was it a bad idea to utilize a soft rock band to score your vaguely European epic? Maybe, as there's simply nothing complex or far-reaching as Frank Herbert's source material. Divorced from the era, though, this is a fun listen, leaning heavily on a more classical approach with rock elements strewn about.
-Fernando Velazquez, Hercules. The inexperienced Valezquez has delivered a truly corny old school sword-and-sandals adventure score. I've listened a few times, and it's genuinely simplistic and rousing, a point-blank fun time with limited sonic experimentation. Listen for when you want to march into battle, but don't care much about the eventual outcome.
Your Daily Blend of Entertainment News
Thank you for signing up to CinemaBlend. You will receive a verification email shortly.
There was a problem. Please refresh the page and try again.