Scott Eastwood Is Getting His Own Action Movie, Get The Details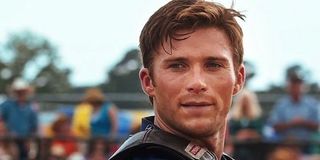 It looks like The Transporter: Refueled, the latest in the franchise once fronted by Jason Statham, isn't the only action movie with eyes for the south of France. Hunky actor Scott Eastwood is set to star in the high-octane flick Overdrive, which will also burn rubber all over those exotic, luxurious environs.
According to The Hollywood Reporter, Eastwood, the 29-year-old son of legendary actor/director Clint Eastwood, will take the lead in Overdrive, which has put together a solid action pedigree. Taken director Pierre Morel is producing the film along with Christopher Tuffin. Derek Haas and Michael Brandt, the duo behind the likes of Wanted, 2007's 3:10 to Yuma remake, and 2 Fast, 2 Furious, are handling the script part of the program. And at the helm of this particular ship this will be Antonio Negret, who directed the Jim Caviezel-starring Transit, as well as a few recent episodes of TV shows like Arrow and The 100.
The story details are vague, but promising for this sort of lower-tier, gritty style of action (it sounds like it will be in the same family as The Transporter and Taken—cheaper to produce, potentially high upside). Eastwood will play one of two brothers, brothers who just so happen to be car thieves. When they head to the south of France, presumably looking for new opportunities to get their mitts on some exotic, high end automobiles, they run afoul of a local crime boss.
This is actually just the latest iteration of a project that has been in the works for quite a number of years. As far back as 2011, a number of actors have been attached to Overdrive. At one point both Alex Pettyfer (Magic Mike) and Matthew Goode (Stoker) were going to play the sibling duo, while Jamie Bell (Fantastic Four) and Garrett Hedlund (Tron: Legacy) were slated to fill the roles during another era of development.
Over the last couple of years, Scott Eastwood has been emerging from the considerable shadow cast by his father and is making a name for himself as an actor. After starting his on screen career in Flags of Our Fathers, incidentally enough directed by his father, he has become the romantic lead in films like The Longest Ride, battled Leatherface in Texas Chainsaw 3D, and fought in World War II in David Ayer's Fury.
Next year we'll also get the chance to see him in a comic book movie as he'll appear in DC's Suicide Squad, also helmed by Ayer, though we don't know much about his role just yet. Oh, and he can currently be seen in the music video for Taylor Swift's new song, "Wildest Dream," so he may be familiar from that if you're one of the 10 million people who have watched that since it went live on Sunday.
Your Daily Blend of Entertainment News
Thank you for signing up to CinemaBlend. You will receive a verification email shortly.
There was a problem. Please refresh the page and try again.