Seann William Scott Moving Over To The Producing Side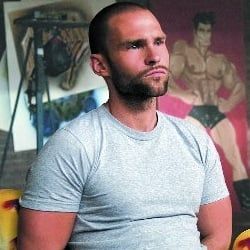 When I interviewed Seann William Scott earlier this year, I was struck both by how friendly and thoughtful he was-- no offense to his acting choices, but I was expecting a little less from the guy made famous playing Stifler. Scott is teaming up again with Kevin Smith for the hockey project Hit Somebody, but I found myself rooting for Scott in whatever he wound up doing next, particularly because he seemed to realize that he had worked his way into a career niche and needed to find a new way out of it.
Turns out, stepping behind the camera is going to be the way he does it. No, Scott isn't starting a directing career. THR is reporting that he and screenwriter Steve Conrad are teaming up to form Elephant Pictures, which would focus on producing features as well as web shorts, documentaries and short films. Explains Scott, "We want to be able to do things that are a little subversive and something that a studio would be less willing to do. We want to do full-length features -- something we can control and with the people we love. Right now, it's an economic climate where it's better to control your own projects."
One of the earliest projects in developments is a comedy that Scott wrote called Iceholes, about competitive ice-fishing and based on Scott's experience growing up in Minnesota. If he makes that one after Hit Somebody it'll be two icebound projects in a row, but when you're from Minnesota, I suppose that feels like home.
Your Daily Blend of Entertainment News
Staff Writer at CinemaBlend