See 5 Minutes Of Captain America: The Winter Soldier In Front Of Thor: The Dark World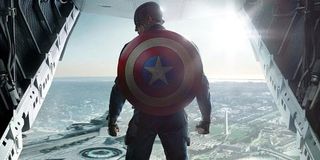 If you're a big Marvel superhero fan you probably already planned to catch Thor: The Dark World in theaters next weekend. But just in case, here's an extra bit of motivation to get there. All 3D showings of the movie, IMAX included, will feature a five-minute sneak peek at Captain America: The Winter Soldier, the next installment in the swiftly expanding Marvel Cinematic Universe that's due next spring.
We only recently got our first look at Captain America back in action when the trailer for Winter Soldier premiered last week, bringing glimpses of a Helicarrier crash, a Black Widow-Captain America team-up, and the return of Cap's old sidekick Bucky Barnes in the form of The Winter Soldier. Here it is again in case you've forgotten about it since last week:
Let us know what you want to see from The Winter Soldier, and report back from your Thor: The Dark World screenings next week to tell us what you saw!
Staff Writer at CinemaBlend
Your Daily Blend of Entertainment News
Thank you for signing up to CinemaBlend. You will receive a verification email shortly.
There was a problem. Please refresh the page and try again.