See Benedict Cumberbatch As Frankenstein In Your Movie Theater This June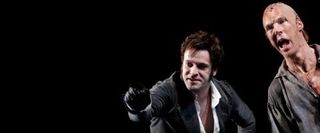 With series 2 of Sherlock airing now on BBC America, and anticipation for Star Trek 2 ramping up every day, Benedict Cumberbatch is about as big a rising star as they come. And while Hollywood keeps calling him and keeping away from the theaters where he started making his name, his performance in the Danny Boyle-directed Frankenstein, which won him and co-star Jonny Lee Miller a shared Olivier Award, is getting ready to live on, and in a movie theater near you.
NCM Fathom Events have announced that Frankenstein will be the latest theatrical production they bring to movie theaters nationwide, with broadcasts scheduled for Wednesday, June 6 and Thursday, June 7. There's a very good reason for the double booking-- Miller and Cumberbatch frequently switched roles in the production, each of them taking turns playing the overwhelmed Doctor Victor Frankenstein and the terrified, terrifying Creature. That's Cumberbatch you see above as the creature, and below, you can see Miller as the monster and Cumberbatch as the clearly fearful doctor.
For a full list of theaters that will be showing Frankenstein, click here. Below is the play's synopsis. If you catch this performance let us know how well the theatrical work translates to the movie screen!
Staff Writer at CinemaBlend