See How Terrifying Dracula Untold Looks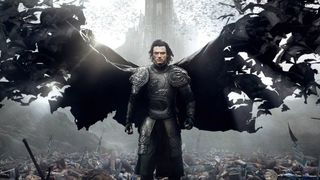 Bram Stoker's Dracula is one of the most enduring works of horror fiction. The book has spawned what feels like a billion films about the vampiric count and his lust for blood, with actors like Bela Lugosi and Christopher Lee classically donning the donning the fangs. Luke Evans is the latest leading man to bring the character to life, but will his work compare with that of the greats? See for yourself in these new clips for Dracula Untold.
Coming Soon shared two new previews for the upcoming feature, which looks to merge historical fact and popular fiction in an effort to create an origin story for one of cinema's most enduring monsters. Evans will play Vlad Tepes (better known as Vlad the Impaler), the real life-inspiration for Stoker's Count. Old Vlad earned his nickname because he had a propensity for impaling his enemies on giant pikes so they could die an agonizing death. He was not above eating his meals surrounded by his dying foes. Those must have been some dinner parties…
So, how does director Gary Shore take this guy and make him at least somewhat relatable in Dracula Untold? I'm not entirely sure – but impaling enemies unless they really deserve it is probably off the table.
In the clip above, we see Evans meeting with a very devilish Charles Dance in what I'm assuming is the scene where he makes his deal to become a vampire in order to save his family and end a war. Dance tells Evans he has no idea what it means to be a monster, and since Dance has spent four seasons as Tywin Lannister on HBO's Game of Thrones, it's safe to assume he knows what he's talking about.
In the second extended television spot, we get a better idea of the bigger picture of Dracula Untold, watching as Evans makes his ill-advised deal, seeing how his newfound power crushes his enemies, and experiencing how it affects the very family he wanted to save. Power comes with a price, indeed.
All in all, Dracula Untold looks like it has more in common with 300 than Universal's classic Dracula. In fact, watching the clips makes me think I'm basically watching the opening of Francis Ford Coppola's 1992 version of Dracula merged with 300.
Will fans flock to the box office for a new take on history's most well-known vampire that plays up the action over the moody ambiance and horror elements? We'll find out when the film opens in 2D and IMAX on October 10th. Until then, let us know what you think of these new clips.
Your Daily Blend of Entertainment News
Thank you for signing up to CinemaBlend. You will receive a verification email shortly.
There was a problem. Please refresh the page and try again.