See Jay & Silent Bob Reunite To Hype Mallrats 2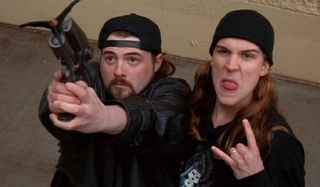 It's certainly looking like Kevin Smith's recent tease of a tweet regarding a sequel to 1995's absurd but adored comedy, Mallrats was on the level. Smith's latest tweet may finally confirm what fans have been recently approaching with cautious optimism. With Smith depicting a mini cast reunion and a bold pronouncement, Mallrats 2 clearly isn't just an optical illusion caused by gratuitous magic eye poster ogling.
Yes, it doesn't get more real than what we're seeing above in Smith's latest tweet. The photo reunites the Silent Bob Smith with his fellow Mallrats alumni in his stoner sidekick, Jay (Jason Mewes); the overbearing consumer of ass-pretzels, Jared Svenning (Michael Rooker); and the film's dispenser of unsolicited sage advice, Stan Lee. The group's collective finger-flashing of the number two drives home Smith's already-definitive declaration to go "back to the Mall" after self-spread rumors of his retirement as a filmmaker have proven premature. Now, it looks like this two-decade-old box-office bomb that would ultimately become a cultural confluence will finally get the sequel it deserves.
Mallrats always represented a critical moment for Smith's career. He was coming off the success in 1994 from his pessimistically droll, but insightfully quotable Clerks, which had elevated him from obscure New Jersey filmmaker to the temporary toast of the industry. With an allocated budget of $6 million, his sophomore effort was still small by Hollywood standards, but it also represented incalculable wealth to the director who famously sold his comic book collection to help pay for the minuscule $27,575 production budget for Clerks. The story spread wide, and made Smith a geek icon even before the film was widely screened. Yet, Mallrats would be the first true test of his ability to do REAL business. He would fail that test….and simultaneously pass it with flying colors.
With a $2.1 million box-office return on that $6 million investment, Mallrats was a certified financial disaster. While the film, like its predecessor, still proliferated Smith's uniquely intriguing habitual hegemony in geek culture, it came across as "just another dumb comedy" with absurd antics, and critics could not get the talky wit of Clerks out of their minds. However, over the years, Mallrats has come to represent everything that made Kevin Smith such a unique voice; mainly, his ability to tell a genuinely heartfelt story amidst the backdrop of ridiculously over-top-comic absurdity. It was, essentially, Romeo & Juliet with dick jokes. While Smith would move on to an array of hits and misses over the years, a lot of moviegoers who have digested Mallrats over the last two decades have been able to discern its innate charm, in spite of its comical crassness. Plus, it was also notable for putting the likes of Jason Lee and, to some extent, Ben Affleck on the map.
Of course, Mallrats 2 is far from the only project on Smith's docket. Seemingly reenergized by his creative experiences with last year's Tusk, he has a horror/comedy called Yoga Hosers set to hit on June 1, the trilogy finale to his debut film with Clerks III set for August 1, 2016, as well as projects further down the line like Helena Handbag and Moose Jaws. All of those will probably see the light day before Mallrats 2 becomes a reality. Thus, anxious fans may want to hold off breaking out their edible false third nipples.
Your Daily Blend of Entertainment News
Thank you for signing up to CinemaBlend. You will receive a verification email shortly.
There was a problem. Please refresh the page and try again.