What The New Rocky Movie Is Actually About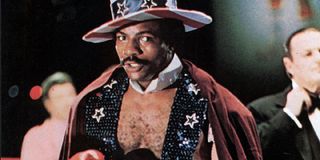 The seventh installment of the famed Rocky franchise, a semi-spin-off called Creed, has been in the works for months now, though only sparse details about its plot have been released. Thankfully, now that production is underway, the film is finally ready to tell us what it's all about, and it's done so through the release of a brand new plot synopsis.
Coming Soon.net has gotten their hands on a bit of new information, and are reporting on the story that Creed will revolve around. It sounds as though Michael B Jordan and Sylvester Stallone will be getting into plenty of scraps in the semi-spinoff – albeit with different opponents. You can read the synopsis in its entirety below:
I'm going to put it out there: I'm completely enamored with the first name Adonis. With that forename, Apollo Creed's son was only ever going to follow in his father's professional footsteps. It's just meant to be.
So, what have we learned from the release of this plot? Quite a lot actually, the most prominent of which is that it sounds as if Rocky Balboa will be going toe-to-toe with his health in the film. Why do I think that? Well the line, "the former champ is battling an opponent more deadly than any faced in the ring," certainly suggests that Rocky's physical condition isn't what it was. Could it be cancer? A heart attack? Or, maybe, he just has a pesky cold that he hasn't been able to shake because of punching all that meat in those walk-in fridges.
As it stands, Creed is actually shaping up rather nicely. 2006's Rocky Balboa proved that audiences still have an appetite for the franchise , as the movie made for just $24 million made a hugely impressive $156 million during its run at the box office. Reviews were positive too, and they praised the sports tale for not only being a delightful jaunt down memory lane that tapped into fans' nostalgia with references and tips of the hat to the previous films, but for also being poignant and entertaining (even if it was riddled in cinematic cliché and was also borderline preposterous too).
Creed will see Sylvester Stallone step away as both a director and a writer, as Fruitvale Station's Ryan Coogler takes the helm of the project. Of course the Italian Stallion will be reprising his character, because otherwise the cinematic community would be apoplectic, but Coogler, The Fantastic Four's Michael B. Jordan and Selma actress Tessa Thompson should inject a fresh energy into the franchise. And because of this, I have a feeling that this could just be the start of Adonis Johnson's adventures in the ring.
Creed will be with us on November 25, 2015.
Your Daily Blend of Entertainment News