See Warcraft's Sweet New Logo And Some Of Its Badass Weapons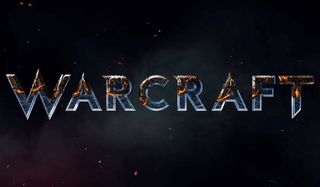 The World of Warcraft movie Warcraft won't be hitting theaters until 2016, but with Comic Con upon us, Legendary Pictures has unveiled the title logo for the fantasy adventure that could draw countless gamers to theaters:
But this isn't all Legendary is teasing at the big San Diego celebration of pop culture and fandom. On the floor of the convention center, Legendary allowed some of the movie's weaponry to be put on display. And shots of these finely detailed swords and shields have been tearing up Twitter.
In the first, we can see a massive sword with a big blue gem detail:
The second is a sword and shield combo. Notably the shield has a golden lion carefully carved on it.
Lastly a fan snapped a series of shots, among them a massive warhammer. (Click the tweet to scroll through.)
With a massive fan following, World of Warcraft has been in the works of a movie development for years at this point. We first reported about it back in the spring of 2006, when Legendary Pictures acquired the movie rights to Blizzard's MMORPG. That summer Steven Spielberg was rumored to be eyed for the director's chair, which if nothing else showed how high Legendary's hopes for the property were. Nonetheless, Legendary struggled to get things rolling on the project, finally securing Sam Raimi to helm in 2009. As the director of Evil Dead and Spider-Man, Raimi seemed a smart choice for a fantasy story with all kinds of creatures and battle in it. However, repeated delays eventually caused Raimi to drop the film in 2012.
The World of Warcraft movie found new hope in early 2013 when celebrated Moon director Duncan Jones signed on to helm. Jones grabbed the reins and production began on January 13th of 2014, wrapping this past May after 123 days of shooting. With a release date of March 11th, 2016, Warcraft has nearly two years to dedicate to top notch computer generated imagery. So fans have reason for high hopes. But Comic Con could give us a clue as to how merited this excitement is. We've seen the weapons and the logo, but what else will Legendary debut at Comic Con?
Staff writer at CinemaBlend.
Your Daily Blend of Entertainment News
Thank you for signing up to CinemaBlend. You will receive a verification email shortly.
There was a problem. Please refresh the page and try again.