World Of Warcraft Movie Gets Director Duncan Jones And Starts This Fall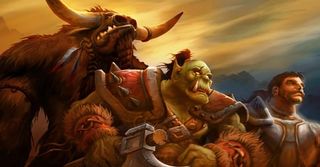 For pretty much as long as this site has been alive, someone in Hollywood has been attempting to make a movie version of World Of Warcraft. The immensely popular game hasn't even gotten a chance to suck as badly as most video game movies have, since it was constantly getting stuck in development and losing producers and screenwriters. But now, half a year after a new writer was hired, a director has finally, officially come on board-- and he's someone who might be single-handedly capable of getting you excited.
According to The Hollywood Reporter, Moon and Source Code director Duncan Jones has signed on to direct, and production is set to start in fall of this year. Legendary Pictures, which was behind The Dark Knight Rises and The Hangover as well as the upcoming Godzilla remake, will also finance this one, with a script from Charles Leavitt-- which, of course, is being kept under wraps. The massive stories of the World of Warcraft games allow for endless possibilities, and it's possible that Jones will have a hand in shaping the story now that he's on board-- he was credited with the story for Moon, after all.
Jones has become a favorite among sci-fi fans in recent years, thanks to the inventive takes on the genre in Moon and Source Code and his lively Twitter feed, where he confirmed the news by saying "So the gauntlet was thrown down ages ago: Can you make a proper MOVIE of a video game. Ive always said its possible. Got to DO it now! ;)" Can he do it? Let us know if he's the right guy for the massive job in the comments.
Your Daily Blend of Entertainment News
Staff Writer at CinemaBlend