See The X-Men Visual Effects Team Turn Fake Sand And Rock Into Egypt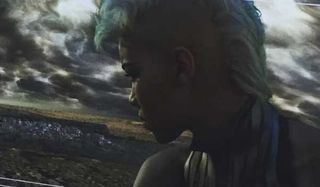 A big part of the reason why superheroes movies are so successful now is because technology in Hollywood has gotten to a point where visual wonders from comics can be recreated in a moment with the help of a computer. That wizardry is front and center in this brand new X-Men: Apocalypse set photo, which creates an Egyptian landscape out of almost nothing:
Director Bryan Singer has shared his latest behind-the-scenes look at the new comic book on his Instagram page, and it really does an amazing job showing off just how far visual effects have come in recent years. What sits in front of Alexandra Shipp in this shot is simply green screen environments, but with the help of special software and hardware the film's director can immediately get a sense of what the final shot will look like in the finished cut of the movie while he's still shooting it.
The X-Men: Apocalypse filmmaker has already shown us a number of shots set in 1983 Cairo, Egypt - but the fact that the movie will have a number of scenes set there is of little surprise. After all, there are two key characters in the movie that hail from that region. The first is Storm, the character you see above, who actually grew up as an orphan on the streets of the capital and learned to become a talented thief. The second Egyptian-tied presence in the movie is the titular villain himself, played by Oscar Isaac. Apocalypse was raised in Ancient Egypt (where he was revealed to be the first mutant), and it's been predicted that he will be woken up there in 1983.
It's worth mentioning that these two characters will very much be tied together in the 2016 blockbuster, as Storm will serve as one of Apocalypse's key henchmen - also known as the Four Horsemen. In addition to Storm, the group will also include Michael Fassbender's Magneto, and two new heroes-turned-evil: Ben Hardy's Angel/Archangel, and Olivia Munn's Psylocke. Though she will be persuaded by Apocalypse to join his cause, we can probably expect that Storm will find her way back to the side of good before the end of the movie, and have her become one of the best students at Xavier's School For Gifted Youngsters.
In addition to all the actors mentioned above, X-Men: Apocalypse will also star James McAvoy, Jennifer Lawrence, Nicholas Hoult, Evan Peters, Rose Byrne, Tye Sheridan, Sophie Turner, Kodi Smit-McPhee, and Lana Condor. The movie is currently in production up in Toronto - as it has been for the last couple of months - but filming will likely be wrapping up in the coming weeks. After that is the long road of post-production, which will end when the blockbuster is ready to arrive in theaters on May 27, 2016.
Assistant Managing Editor
NJ native who calls LA home and lives in a Dreamatorium. A decade-plus CinemaBlend veteran who is endlessly enthusiastic about the career he's dreamt of since seventh grade.
Your Daily Blend of Entertainment News
Thank you for signing up to CinemaBlend. You will receive a verification email shortly.
There was a problem. Please refresh the page and try again.