Serious Moonlight Trailer: Cheryl Hines Directs Meg Ryan To Duct Tape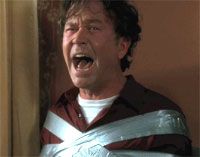 In one of those projects that screams "We're bored and would like the money," a unique ensemble cast hops onto the big screen December 4th. Meg Ryan, Timothy Hutton, Kristen Bell, and Justin Long star in Cheryl Hines' feature directorial debut Serious Moonlight, a romcom about a Manhattan lawyer, Louise (Ryan), whose husband (Hutton) is leaving her for a younger woman (Bell). The neurotic Louise, however, won't have any of it, and ties her hubby to a chair in an effort to counsel one another through their troubled marriage. This is where the funny presumably begins.
Take a look at the trailer and tell me if I'm not the only one getting the vibe that this film was originally made for TV: the unconventionally dim lighting (for a broad comedy, at least), off-tone color correction, and Disney home video voice-over are all rather suspicious. This film was independently produced, so I'm willing to blame the questionable aesthetics on a lack of budget.
Check out the first trailer for Serious Moonlight below or in HD on Yahoo.
Your Daily Blend of Entertainment News
Thank you for signing up to CinemaBlend. You will receive a verification email shortly.
There was a problem. Please refresh the page and try again.