Severus Snape: The Man, The Mystery, The Half-Blood Prince Explored In New Featurette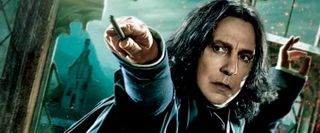 Severus Snape has always been one of the most complicated and interesting characters in the Harry Potter universe, portrayed as the villain in Sorcerer's Stone until he rescued Harry at the end, then constantly lurking around the edges as not exactly a good guy, but seemingly not the guy causing any of the trouble Harry came across over the years. In the final Potter film, Harry Potter and the Deathly Hallows Part 2, which comes out this Friday, Snape's story and all the others finally come to an end-- and before you find out whether or not he comes down on the side of the good or the bad, you might want to check out this featurette and get a refresher about where we've been so far.
Warner Bros. sent over this video, which includes interviews with most of the principal crew, plus Daniel Radcliffe and Alan Rickman, who looks remarkably different when out of his black Snape wig. Take a look below.
Those of you who have read the book may remember that Snape has a pretty crucial moment late in the story, one that I'm happy to say they pretty much nailed in the new movie (you can read my full review here if you want to know more). And if you want more of the piles and piles of marketing materials about the movie we've gotten thus far from the studio, hop on over to the Blend Film Database, where you'll probably be rightly impressed by the amount of images, posters and videos they've released so far. Never let it be said that these Potter movies just market themselves.
Your Daily Blend of Entertainment News
Staff Writer at CinemaBlend