Shannon Eilzabeth Completes The American Reunion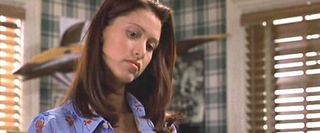 I've been skeptical all along at the prospect of a fourth American Pie film, still regretting the minutes I spent with American Wedding, but the photos that Jason Biggs recently tweeted from the set somehow got to me. People who were 9 years old in 1980 are sucked in by all the ads for Super 8; I was 15 years old in 1999, and therefore I am genetically wired to respond to American Pie with deep nostalgia. I'm not saying it's right or wrong, but it's a fact that's likely true for my entire generation, which is probably the main reason Universal is making the movie to begin with.
Anyway, with shooting on the film already underway in Atlanta there was still one key piece of the puzzle left in place, because what would an American Pie movie be without Shannon Elizabeth? According to Deadline the actress has finally signed a deal to reprise her role as Nadia, the hot-to-trot foreign exchange student who was usually a key figure in the embarrassment suffered by Jason Biggs's character Jim. Elizabeth's participation pretty much makes this a full reunion, though poor Natasha Lyonne, who played a pretty significant role in the first two films but fell upon hard times later on, doesn't seem to have been invited back. Regardless, it's enough of a reunion for the title to fit, and I'd expect to see the fourth theatrical American Pie film out at some point in the summer months next year.
Staff Writer at CinemaBlend
Your Daily Blend of Entertainment News
Thank you for signing up to CinemaBlend. You will receive a verification email shortly.
There was a problem. Please refresh the page and try again.