Shia LaBeouf Says He Was Raped During His Performance Art Project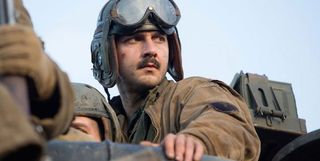 Shia LaBeouf has claimed that he was raped during the performance art project that he held in Los Angeles last February.
The Transformers actor made the stunning accusation during a silent interview that he conducted with Dazed Digital. Shia LaBeouf orchestrated #IAMSORRY during February 2014 after he admitted to plagiarizing the work of Daniel Clowes' graphic novels for his own short film Howard Cantour.com. He decided to embrace his shame by silently meeting hundreds of different members of the public one by one for five days straight in a gallery in Los Angeles. As they walked in he simply sat there in silence. After being asked whether one experience stood out to him as being either unsettling or moving Shia LaBeouf then made his disturbing revelation.
Obviously Shia LaBeouf was left mentally and physically shaken up by this diabolical event, but there was another reason that he was horrified by the incident. It occurred on Valentine's Day and Shia LaBeouf's girlfriend was in line at the time to see him in his performance. In fact, LaBeouf even admitted, that she heard about what had taken place inside the gallery...
Shia LaBeouf didn't offer any more information regarding the incident during his candid and unique interview with Dazed's Aimee Cliff. His silent exchange came after he had spent several months talking to Cliff via email. After they arranged to meet in London for an in-depth discussion while LaBeouf was in the English capital to promote Fury, he then suggested that they should simply sit in the hotel room without speaking and keep their entire dialogue online. They both had Go-Pros attached to their heads for the entire hour. You can watch a clip from their unique interview below.
I think that we can all agree that despite its idiosyncrasy it is still intimately hypnotic.
As for what happened between Shia LaBeouf and the woman who entered his #IAMSORRY exhibition, only they will truly know what occurred that fateful day, while it is unknown if LaBeouf actually reported the offense to the police.
Your Daily Blend of Entertainment News
Your Daily Blend of Entertainment News
Thank you for signing up to CinemaBlend. You will receive a verification email shortly.
There was a problem. Please refresh the page and try again.