Should Marvel Consider Brie Larson For Captain Marvel?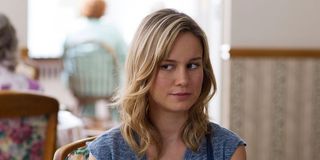 Ever since late 2014, when Marvel announced that a Captain Marvel movie is coming in Phase Three, there have been numerous reports about who will play Carol Danvers in the Marvel Cinematic Universe. Actresses like Emily Blunt and Rebecca Ferguson have been said to be in consideration, while others like Katheryn Winnick and Ronda Rousey have openly campaigned for the role. It's going to be a while until the casting is officially announced, but that won't stop fans from coming up with their own ideas of who should play Captain Marvel, and now we're wondering whether Brie Larson might be a good fit.
On Sunday, Brie Larson won the Academy Award for Best Actress for her performance as Joy "Ma" Newsome in Room. Following that win, the folks at Omega Underground pointed to her as an interesting candidate to play Carol Danvers. There's no doubt that with the Oscar sitting on her shelf at home, Larson is going to be sought out for more high-profile roles, and playing one of Marvel's most famous superheroines certainly fits that category. Larson has already some action-oriented experience from movies like Scott Pilgrim vs. the World and 21 Jump Street, and next year she'll appear in Kong: Skull Island, unquestionably her biggest blockbuster role yet. Starring in Captain Marvel would be the next step up and fit with Marvel's habit of courting award-winning and otherwise celebrated actors. The blonde hair helps conjure an image of what she'd look like in the costume, but what does she bring to the table acting-wise?
Although Brie Larson has appeared in a variety of projects, many are most familiar with her through her comedy work, and in the Marvel Cinematic Universe, that's a bonus. Mixed in with the serious moments and action scenes in these movies are protagonists, and some of the antagonists, dropping occasional quips and one-liners. Larson can easily pull this off as Carol Danvers, whether it's back and forth with one of the supporting cast or cleverly insulting whichever adversary she's facing. Plus, as we've seen with Chris Pratt in Guardians of the Galaxy and Paul Rudd in Ant-Man, comedy stars can be shaped into superheroes for these Marvel movies without taking away their humor and charm.
If there's one thing that might weigh against Brie Larson, it's that she's probably too young. In the comics, Carol Danvers had already been a colonel in the U.S. Air Force, a C.I.A. spy, and was Chief of Security at NASA when she gained her powers. That's not to say Larson isn't capable of playing a military figure, but even if we keep her only experience as an Air Force officer in the MCU, it's hard to believe she advanced through the ranks so quickly at only age 26. It would be more reasonable to cast an actress who's in her mid-late 30s. That's just enough time for audiences to believe that the MCU's Carol has had the right amount of time in the military.
There's also the matter of whether Brie Larson can portray that military presence the character needs to have in the movie. There's no denying that she's a talented actress, but she hasn't had the opportunity to play authority figures in her career, and being an Air Force officer fits that type of role like a jigsaw puzzle piece. Sure, Larson can rock the snarky attitude that Carol sometimes displays in the comics and other media, but adopting the discipline of someone in the military may be challenging for her. Of course, I could easily be proven wrong about this, and depending on what roles we see her in next year and 2018, maybe she'll get to show her chops in this capacity by being cast in some other kind of authority role. Either way, right now the pros of Marvel looking at her outweigh the cons.
Captain Marvel is currently set for release on March 8, 2019, which means that Marvel will likely announce who's playing Carol Danvers by at least fall 2017 at the latest (and that's also assuming she doesn't pop up in Avengers: Infinity War Part I beforehand). Following this Oscar win, Brie Larson's fame is only going to increase, so Marvel would be wise to at least put her on their list of candidates while her schedule for the near-future is still relatively open. While the wait continues, let us know if you think Brie Larson is a good candidate for Captain Marvel.
This poll is no longer available.
Your Daily Blend of Entertainment News
Connoisseur of Marvel, DC, Star Wars, John Wick, MonsterVerse and Doctor Who lore. He's aware he looks like Harry Potter and Clark Kent.