Simpsons Movie Teaser In Theaters!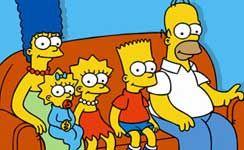 It's April Fools, so you can't believe anything you read anywhere. But we've already gotten our April Fools joke out of the way, so if this is an April Fools joke, it's not one by us.
News sources all over the internet, including us, are getting reports from readers that a teaser for the rumored Simpsons movie is attached to some prints of Ice Age 2. So far, it sounds like the trailer comes in two different styles. The first one has Homer sleeping on a couch, the second is some sort of Superman spoof. It's also supposedly really short, 30 seconds or so.
But, as of yet no one has actually confirmed for sure that this trailer exists… and it is April Fools, a time when people do a lot of lying. I'm inclined to believe this is all a lame hoax, but if it isn't, leave us a message in the comments section below to tell us whether or not you've seen it with Ice Age 2.
----------------
Updated: Cinema Blend's own Rafe Telsch decided to take matters into his own hands this afternoon, and scout out Ice Age 2 for the presence of the Simpsons trailer himself. He saw it. It's confirmed. Simpsons: The Movie trailer is indeed playing in theaters attached to Ice Age 2: The Meltdown. Don't be surprised if it pops up somewhere on the internet Monday.
Update #2: Rafe here with a little more of a description of the trailer. The camera moves around the Superman shield as if this is a trailer for Superman Returns as the announcer talks about something big coming to the screen. Suddenly the camera zooms out really fast and it turns out the shield has been on a t-shirt Homer Simpson is wearing. He is sitting on the couch, Duff in hand, wearing the shirt (which is far too small for him) and his briefs. His reply to what the narrator says: "I forgot what to say." Classic Homer! The trailer then goes into the "coming 2007" bit and ends. It's only probably 30 seconds long, but it's kind of neat to see Homer Simpson up on screen in his tidy-whities.
The Simpsons movie is no longer something that might happen. It's happening, and according to the trailer it'll be in theaters July 27, 2007. Mark your calendars.
Your Daily Blend of Entertainment News