The Sinister Six Confirmed To Arrive Before Venom, Is Compared To Wages Of Fear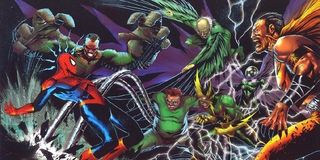 Spider-Man lives! Spider-Man does not live! Every day brings new news in the saga of the superhero movies no one seems to want. Sony's got four dinner meats ready to go into the stove, The Amazing Spider-Man 3, The Amazing Spider-Man 4, The Sinister Six and Venom. But is it really worth making all of them if their last dinner party was the least successful? If you ask Amazing Spider-Man 2 co-writer Alex Kurtzman, they might just start with The Sinister Six. But no one has even bothered to turn the stove on quite yet.
Speaking to Collider, Kurtzman confirmed that Sony is still exploring their options regarding the next Spider-Man adventure, though Venom, which he is directing, will come after The Sinister Six. He does drop one intriguing nugget in regards to The Sinister Six, an audacious reference point that will intrigue movie geeks.
To be honest, that's the most exciting thing anyone has said yet regarding the villain spinoff film. Of course, it's pretty simplistic to merely paint the characters of The Wild Bunch and Wages Of Fear as bad guys, but Kurtzman writes movies for teenagers and kids. It's allowed. If you need a heads up, The Wages Of Fear, a French thriller from the '50's, is widely considered one of the greatest films of all time, following a group of disreputable men as they transport nitroglycerine to an oil well in a deadly suicide mission. It's a bit less well-known than Sam Peckinpah's The Wild Bunch, so we've posted the trailer below.
Now, given these two films deal with fatalistic men who live lives of danger, is the implication that some villains might not make it out of The Sinister Six? Kurtzman claims The Sinister Six and Venom exist in "a universe outside of the Spider-Man universe" so does that mean we won't see much, if anything, of the wall-crawler in those movies, and therefore death is fair game? Or is this going to be like The Expendables , another franchise loosely modeled after The Wild Bunch but one where no one dies, even though the title explicitly says they're expendable?
The Sinister Six opens on the 5th of no one knows, followed by Venom on I-Dunno 27th. Mark your calendars.
Your Daily Blend of Entertainment News