Sinister Six Lineup Not Final, Could Start Shooting In January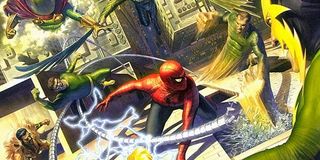 Sony got pretty ambitious in the march up to this Friday's The Amazing Spider-Man 2. So confident in the success of this film that they already scheduled two more sequels, while opening the door up to separate spinoff films featuring Venom and The Sinister Six. While we're supposedly getting more Spidey every two years, those villain movies haven't yet landed a release date. But if a new report is correct, it looks like The Sinister Six might be up at bat.
The Wrap has announced that Sony is set on putting the wheels on The Sinister Six and letting it roll down the hill of development, with a possible January 2015 start date being eyed. This suggests a potential 2016 release date, which raises a number of questions, specifically: will Sony release both The Sinister Six and The Amazing Spider-Man 3 in 2016, given that the third Spidey is slated for June 10th, 2016.
The report also announces that the Sinister Six roster is not set, despite the material seen in the credits for The Amazing Spider-Man 2. Relax, spoiler-phobes: the end credits for The Amazing Spider-Man 2 only announces the hypothetical potential villains in the future for Spidey. So debate as to whether that final character tease is either Mysterio or Chameleon is probably moot (though Chameleon's plot to torture Spider-Man by cloning his parents would be an interesting and semi-plausible direction to take this franchise). Also, as an aside, come on people, Mysterio doesn't wear a mask, so how can it be Mysterio?
Sony is likely moving forward on this film due to the demand for director Drew Goddard's services. He's already had to drop out of The Martian due to his Spidey demands, and will be coming off his stewardship of the Netflix Daredevil series. As one of the hottest directing names in the business, it behooves Sony to tie this guy down: the demand isn't nearly as strong for potential Venom director Alex Kurtzman, who remains one of the industry's hottest writers, but has only directed the flop People Like Us.
Of course, the question still hangs there: what is this movie even about? Centering a movie around Spidey's villains remains a pretty odd choice, and no one even knows if Spider-Man will be in the actual film. The events of The Amazing Spider-Man 2 certainly lead to it, and the guess is that Dane DeHaan's Green Goblin and Paul Giamatti's Rhino will be a part of it. Will Andrew Garfield? And is there a chance that Sony instead uses The Sinister Six in place of a Spider-Man movie that summer, giving the wall-crawler a break before fatigue sets in? It's likely the opening weekend numbers will tell the full story.
Your Daily Blend of Entertainment News