Will Smith In Talks To Star In Ridley Scott-Produced NFL Concussion Drama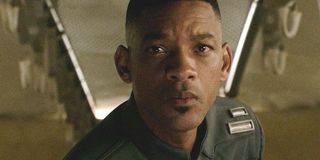 Will Smith is about to blow a whistle. The one-time Ali star hasn't been a fixture in sports films over the years, shying away from them to focus on larger-than-life genre stories with the occasional weepie thrown in. But now, Will Smith is going behind the scenes to expose the corruption of the NFL, thanks to producer Ridley Scott.
According to Variety, Will Smith is in talks to star in an untitled football drama based on the GQ article Game Brain by Jeanne Marie Laskas. Smith would play Doctor Bennett Omalu, a forensic neuropathologist who became the first person to discover Chronic Traumatic Encephalopathy in a football player's brain. CTE, as it's known, is a degenerative disease caused by severe trauma to the head that can only be discovered after death. Naturally, this afflicted several football players as they entered their twilight years, and those that suffered from CTE either died from the condition or failed to manage the pain and committed suicide.
Of course, this sounds boring as shit to most people, even sports fans. The main conflict in the story, however, comes from the fact that Dr. Omalu's findings were eventually suppressed by the NFL. The league repeatedly tried to intimidate and threaten Dr. Omalu, discrediting his findings, ultimately lying to former players who sought the truth about their rapidly deteriorating health. This led to a mammoth lawsuit brought upon the league by former players seeking damages. Unfortunately, the league's settlement offer of $765 million was accepted by the players, but rejected by a US district judge for representing inadequate compensation for the 20,000 participants in the lawsuit. And this isn't a case affecting retired forty year olds with years old damage: high school and college athletes have also been revealed to be affected by CTE.
Peter Landesman, the writer and director of the recent President Kennedy drama Parkland, will write and direct this film for Ridley Scott's Scott Free Films. There are two other projects about this issue currently in development. One, based on the book League Of Denial: The NFL, Concussions And The Battle For Truth, may still happen. The other, an indie film with Isaiah Washington called Game Time Decision, is an indie film that will likely have a much more specific focus. The question is, with this case ongoing, is anyone going to be allowed to use NFL logos or branding? And if not, won't that take away from the necessary element of this story, that a major sports league is freely turning it's players into gruel?
Will Smith's involvement is mostly due to his last-minute exit from the sci-fi drama Brilliance, and he's bringing a lot of star power with him. It's also a sign that maybe the suddenly-reclusive actor is ready to return to the mainstream. Though he had a minor (and hilarious) role in Winter's Tale, his last leading role was 2013's dubious After Earth. And he's not going to be seen onscreen until 2015's Focus, which teams him with Margot Robbie. This is a pretty interesting project to take on, so hopefully Will Smith joins this project and shooting begins soon.
Your Daily Blend of Entertainment News