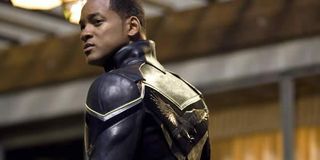 It looks like there's one blockbuster out there now without it's star. The franchise-starter Brilliance already had Will Smith involved in a massive story involving agents pursuing the gifted in the future. But it looks like Will Smith's Big Willie Style might not be suited to the Julius Onah-directed film. Nope, today is the day Brilliance shines just a bit dimmer.
Smith has backed out of Brilliance, according to a report from Deadline. Adapted from the novel by Marcus Sakey, the David Koepp-penned movie was set up at Universal by Legendary Pictures, who themselves are flush off the success of Godzilla. The film was to concern a separate group of evolved humans with special skills, called "brilliants," and the agent tasked with hunting them down to eliminate a terrorist threat. Smith would have played agent Nick Cooper, but now he ain't playin' nobody, as no reason was given for his departure (though sources claim it was an issue of timing, as the start date kept shifting).
Universal intends to march ahead with a new leading man to team with Noomi Rapace, with a fourth quarter 2015 or first quarter 2016 release date planned for Brilliance. The little known Onah is also still in place, though Will Smith's departure leaves this film at a bit of a standstill. You don't really make something this derivative unless you have a big star, which despite some recent disappointments, Smith still is. If Legendary has franchise hopes for the film, they'll be bullish and bring on someone new within days. The question for them likely is, "Is Will Smith replaceable? And by who?"
So, Will Smith, what are you up to? The A-lister wrapped the con-man thriller Focus a little while ago, and that's set for release in February. Until then, he could just lie back on his stacks of million dollar bills, but that's not what movie stars do. Particularly after the failure of After Earth, a not-good movie that had the misfortune of a target on its back for looking like a Will and Jaden Smith vanity project. Smith also opted against showing up for a second Independence Day as well, suggesting a stronger handle on the reins in keeping his movie star status. He's got nothing in the pipeline, though he remains attached to projects like Selling Time, City That Sailed, and the janky-sounding The Redemption Of Cain.
Unfortunately, his collaborators on these films are the likes of DJ Caruso (Disturbia), Akiva Goldsman (Winter's Tale) and Shawn Levy (Night At The Museum). Are these the type of guys you want handling your return to A-List acting? Nobody would have noticed Smith's dodgy taste in directors if he hadn't turned down Django Unchained awhile back. Now, Smith's gotta fight his way back to center stage. It seemed like Brilliance would be the movie to do that, but it looks like it'll have to be something else.
Your Daily Blend of Entertainment News