Snoop Dogg Signed On For Blues Singer Biopic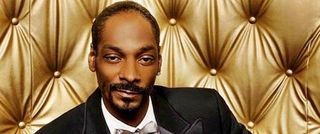 Looks like it's time for a certain rap icon to trade in his gin and juice for some rhythm and blues. According to Deadline, west coast rap legend Snoop Dogg (née Calvin Broadus) is set to star in The Legend of Fillmore Slim. The film is a biopic of blues singer/guitarist Clarence "Fillmore Slim" Sims and is set to be directed by relative unknown Hawthorne James. Well I'll be heezied for sheezy.
Snoop's attraction to this subject matter may not be readily apparent at first. I mean, why would he want to take part in a biopic of a musician renowned in a genre outside his own? But it turns out that part of Fillmore Slim's colorful past includes not only blues music, but also a significant amount of pimping. Slim made quite the name for himself in San Francisco during the 1960s and 1970s as much for his nefarious entrepreneurialism as he did for his music. He was called "The West Coast Godfather of the Game" and "The Pope of Pimping." One need only listen to one or two Snoop Dogg tracks to understand that he has quite the affinity for pimp subculture. But really, a rapper staring in a biopic about a blues singer? Who'd want to see that?
I would, for one. There exists a stigma that musicians, rappers included, who cross over into the world of acting do so without much proficiency. But hip-hop artists like Mos Def, Common, and Ludacris have demonstrated legitimate talent in front of the camera. For his part, Snoop proved charming and impossibly likable as Huggy Bear in 2004's Starsky and Hutch while 2001's Training Day showcased his naturalism and street authenticity. It will be interesting to see what he can do with a role like this and whether or not he will do his own blues vocals.
The Legend of Fillmore Slim begins pre-production in December en route to a March start date.
Your Daily Blend of Entertainment News