Snow White And The Huntsman 2 Officially Cuts Snow White, Gets A Release Date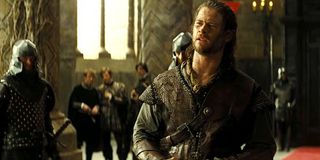 Somebody give Kristen Stewart a hug. Universal has been puzzling over how to make a sequel to Snow White And The Huntsman after the first film made $396 million. Rumors circulated that she would play a small-to-nonexistent part in the new film, which would primarily focus on the character of the Huntsman played by Chris Hemsworth. But no one would have guessed the studio was ruthless enough to simply subtract her from the equation completely to make The Huntsman.
Universal has announced both a title and release date for The Huntsman, a prequel that will follow the adventures of Chris Hemsworth's character from the first film. You'll recall he had something of a tortured backstory, with his wife murdered by nefarious forces. We'll probably get to see more of that in this follow-up, which also brings back Charlize Theron's Raveena. Stewart at least has company on the unemployment line: director Rupert Sanders also isn't returning to the film, leaving the reins to writer-director Frank Darabont. Darabont's really the biggest upgrade here: losing Stewart is unfortunate, but Hemsworth and Theron should get a better chance to play off each other. Though it may be cruel to Stewart, it would probably be best to divorce this film completely from the events of Snow White And The Huntsman, giving this would-be franchise a fresh start.
The Huntsman hits theaters on April 22nd, 2016, which is right now a very quiet month on the 2016 schedule. The only other April 2016 film is another Universal offering, The Best Man Wedding. Expect April to fill up veeeeery slowly, as studios fear that coming May. The Huntsman has two weeks to make a chunk of change before Batman v Superman: Dawn of Justice and Captain America 3 arrive. Good luck, Huntsman.
Universal originally had the April 22nd date reserved for The Mummy . Now that they have a director for that project, they can bump it just a bit into summer, as it will now arrive on June 24th, 2016 - which it currently has to itself. If the schedule stays the same, The Mummy will hit theaters after another unlikely same-day showdown, as the 17th of June pits How To Train Your Dragon 3 against Pixar's Finding Dory. You'd expect Dreamworks to bolt from that slot, but if not... blood in the streets, man. The Mummy is said to be (groan) "family-friendly adventure" so it's not really clear why it's opening a week after two animated films that could probably gross $70-80 million in their openers. But maybe Universal knows what they're doing. That is a risky summer for Universal, as they're also debuting an untitled comedy that May a week after the superhero team-ups, as well as the as-yet-undefined Bourne film that Justin Lin is directing for July. Strangely enough, The Huntsman might be the safest bet amongst these titles.
Your Daily Blend of Entertainment News
Thank you for signing up to CinemaBlend. You will receive a verification email shortly.
There was a problem. Please refresh the page and try again.