Sonic The Hedgehog Getting Live-Action/CGI Movie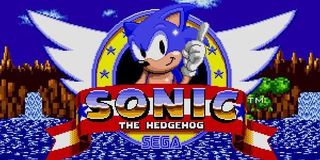 Video game movies have a bad reputation, but that's not stopping Sony from turning to an old classic for fresh inspiration. As we near the 23rd anniversary of the release of Sega's Sonic The Hedgehog, plans have been announced to turn this video game into a flashy movie.
The Wrap reports Sony Pictures Entertainment and Marza Animation Planet have joined forces to adapt the Sonic The Hedgehog video game into a a hybrid CG-animated/live-action feature film. The script is being penned by Evan Susser and Van Robichaux, up-and-coming writers who created the monthly comedy talk show What's Going On? With Mike Mitchell. No director has yet been attached.
Sonic The Hedgehog is still globally popular after two decades. Not only is the blue hedgehog with the lightning fast speed an icon of video games, he's also the face of a $1 billion franchise made up of more than 140 million games sold. And of course, Sonic has made his way into a cartoon series and a straight-to-video movie. 1993 brought Sonic The Hedgehog, which ran for two seasons and had Jaleel White of Family Matters fame lending his voice to the spunky Sonic. Three years later, Sonic took on Dr. Robotnik in a 60-minute adventure also called Sonic The Hedgehog, but this time it was Martin Burke who voiced the manic mammal. It's unknown if either will be tapped for his latest incarnation.
No official logline is being revealed for Sony's Sonic The Hedgehog movie. However, this family friendly adventure will aim to mimic the irreverent spirit for which Sonic is known. Susser and Robichaux haven't yet said which of Sonic's crew might pop up in his big-screen adventure, but we do know he'll face off against the evil Dr. Eggman. Sony's reps insist the options for Sonic's adventures are limitless, yet the curious bit of this announcement is that the Sonic The Hedgehog movie will be a mix of live-action and CG, a route that the upcoming SpongeBob SquarePants feature, The SpongeBob Movie: Sponge Out Of Water 3D, also appears to be taking.
Mixing animation with live-action can be a mixed bag. The best example was probably Robert Zemeckis's comedy-noir Who Framed Roger Rabbit, which seamlessly blended traditional hand-drawn animation (of a wide array of well-known characters) with live-action actions and props. Remember the magic with this clip:
On the "why did this happen" end of the scale, you've got the Yogi Bear movie. Yipes.
Where will Sonic The Hedgehog settle on this scale? We'll have to wait to find out. No release date has yet been announced.
Staff writer at CinemaBlend.
Your Daily Blend of Entertainment News
Thank you for signing up to CinemaBlend. You will receive a verification email shortly.
There was a problem. Please refresh the page and try again.