Sony Pictures Snatches Up David Baldacci's YA Novel The Finisher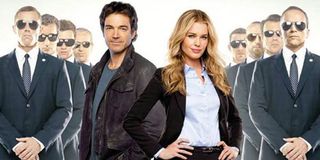 Prolific, best-selling American novelist David Baldacci has published 26 novels, translated into 45 languages, sold in over 80 countries, with more than 110 million copies worldwide. So when he decides to dive into the Young Adult genre, which Hollywood is completely crazy for in the wake of Harry Potter, Twilight and The Hunger Games, of course studios are going to leap at the chance to option whatever he comes up with. Deadline reports Sony Pictures Entertainment has bought the rights to Baldacci's upcoming novel The Finisher. The fantasy novel follows a 14-year-old girl who gets caught up in a fantastical adventure. Scholastic Press will release the book in March of 2014, but you can check out the logline from the company's catalogue below:
Earlier this year I spoke to The Hunger Games Effect that I believe is encouraging studios to include more females in action properties in active roles. The YA adaptations seem to be the genre with the most noticeable growth. Aside from The Hunger Games, which focuses on steely huntress Katniss Everdeen, we've also seen Beautiful Creatures and The Mortal Instruments: City of Bones as well as the upcoming Divergent. Soon to join their ranks it seems is young Vega of The Finisher. And with her comes one more role that teen ingénues will be battling over. Obviously casting is still a ways away for The Finisher. First, Sony will have to select a screenwriter to translate Baldacci's book into a PG-13 action-adventure spectacle.
The Finisher will mark the fourth of Baldacci's works to get a screen adaptation. The first was Absolute Power, his first novel, which was made into a directing/starring vehicle for Clint Eastwood. The second was the short-lived TNT series King & Maxwell, which was cancelled last week. Lastly there's Wish You Well, a recently wrapped family drama with Josh Lucas and Ellen Burstyn. Notably, Baldacci wrote the screenplay himself for this one, which might mean he'd pursue the same for The Finisher. In the meantime, enjoy a trailer for King & Maxwell:
Your Daily Blend of Entertainment News
Staff writer at CinemaBlend.