Spider-Man Officially Hires Tom Holland And A Director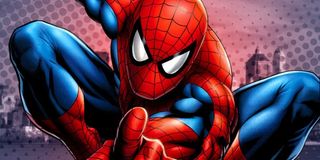 Well, the wait is finally over, True Believers. After months of speculation and rumors surrounding the long-awaited debut of Spider-Man in the Marvel Cinematic Universe, we know know who will both star as the Web-Slinger and who will direct his first solo movie.
Linked to the part for some time, Marvel.com revealed that Tom Holland will put on the red and blue spandex and climb the walls of New York City. And following in their path of finding unusual directors with talent and unique visions, the comic book studio has hired Jon Watts, whose Cop Car has been making the film festival rounds. It's an unexpected choice to be sure, but one that could wind up being very, very cool.
Tom Holland is a name that's been in the mix for a while, and after Asa Butterfield dropped out, or was pushed out, he emerged as the frontrunner. There was a reported schism between Marvel and Sony about who should play the part, with comic book giant wanting Boardwalk Empire's Charlie Plummer, while Sony was backing Holland. Just yesterday, the 19-year-old actor, most known for his role in the disaster film The Impossible, posted videos of himself performing a variety of stunts and flips in his yard. Whether he knew about this decision or not, he was certainly channeling his inner Spider-Man.
While Holland has the potential to be a cool new addition to the MCU, the decision is not a huge shock. Jon Watts on the other hand, is something of a surprise. I did not see that one coming. His latest, Cop Car, is a gritty thriller starring Kevin Bacon as a rogue police officer tormenting a couple of young kids for joyriding in, you guessed it, a cop car. Beyond that, he's most known for his twisted-ass 2014 horror film, Clown, about a guy who is taken over by an evil clown suit and becomes a murderer.
Watts is definitely an unexpected choice to say the least, but it fits with Marvel's pattern. James Gunn's biggest movie before Guardians of the Galaxy was about vicious slugs taking over a small town (Slither), and that turned out rather well for everyone involved. The MCU is often criticized for is homogeneity across movies and franchises, but Gunn was still able to inject his film with his own style and sense of humor, so perhaps Watts will be able to do the same.
We've still got some time, however, before we see just what Watts brings to the MCU. Holland's Spider-Man will first show up onscreen next year in Captain America: Civil War, and while we don't know the extent of his role, it'll be exciting to see him amongst the ton of other superheroes populating that picture. That film hits May 6, 2016, and the following year, on July 28, 2017, we'll see the launch of yet another new Spider-Man franchise.
Your Daily Blend of Entertainment News