Why Marvel Is Really Fired Up About Making A Spider-Man Movie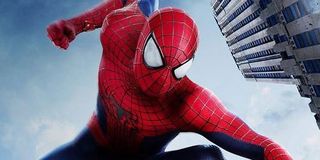 The prospect of the Marvel's cinematic universe finally being graced with their comic book centerpiece in Spider-Man is enough to excite any fan. However, in embarking on this property partnership with Sony, one of Marvel's big brass is excited about the web-slinging arrival for another specific reason: the design of his new costume!
In an interview at Comic-Con with IGN, Marvel Chief Creative Officer, Joe Quesada reveals that, besides the powerful possibilities that the iconic wall-crawler adds to the MCU, new Spider-Man, Tom Holland will be showcasing some slick sartorial stylings. While it's doubtful that this third cinematic iteration of Spider-Man will reinvent the indelible wheel that is the classic red and blue, something about this new design has Quesada, a phenomenal comic book artist in his own right, extremely excited. According to Quesada:
At this point, the diligent IGN interviewer attempts to extract further details about the costume, asking Quesada about things like whether or not it will sport a traditional look or if Spidey will be armed with the comic-book-traditional wrist-attached web shooters that were revived with the recently-concluded previous iteration of the cinematic Spider-Man property. However, Quesada remained mum on all fronts, staying true to his duty of confidentiality by not divulging even the most minute of details. Yet, his excitement over the design was quite evidently palpable, indicating that he's sitting on some seriously potent secrets about old Web-Head's new spider-suit.
However, the extent of Quesada's enthusiasm wasn't limited to the costume, as he seemed to be in a state of zeitgeist-inspired zeal over the idea of Spidey mixing things up in the ever-expanding, seriously lucrative MCU movies. As Quesada ecstatically states:
While Quesada's credibility as a creative force and auteur of comic book aesthetics is not in question, the idea that the Spider-Man outfit might be altered in such a significant way could be enough to raise some eyebrows amongst the purist population of the fandom. While reception was mixed in regards to the rushed, packed plot of Spidey's last movie manifestation with Andrew Garfield's The Amazing Spider-Man 2, there seemed to be a general consensus that the suit he sported in that film (pictured above) was the most comic-book-accurate rendition of the classic costume to ever appear in live-action form. Some may go so far to say that it was purist perfection. Thus, any deviation from that venerated version notable enough to inspire such a powerful reaction may very well raise some red flags regarding what will be revealed.
Yet, as Comic-Con continues to roll through with a wealth of nerdy reveals, it should be noted that Marvel Studios, with no proper panel planned, were not expected to drop any significant news on the movie front. While they could nevertheless surprise us with something, the costume of the newly-cast Spider-Man may not be amongst this weekend's news-worthy riches. Of course, we'll likely get that glimpse soon enough, seeing as Tom Holland's Spider-Man will swing his way into the middle of a heated, all-encompassing ideological conflict between Captain America and Iron Man when Captain America: Civil War hits theaters on May 6, 2016. Holland's yet-to-be-titled Jon Watts-directed Spidey solo film will then arrive on July 28, 2017.
Your Daily Blend of Entertainment News