Spinelli's Stargirl Heads For Screens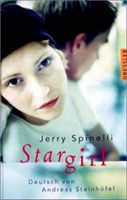 Anyone who has been in Middle School or High School in recent years is familiar with author Jerry Spinelli. The writer is rapidly becoming one of the most widely read young adult authors in recent years. It's no surprise, therefore, to see studios clamoring to adapt his novels into movies. An adaptation of Spinelli's Stargirl was at one time set up to be produced by Nickelodeon Pictures but The Hollywood Reporter has announced the picture has moved over to Montecito Pictures and the Gotham Group.
Stargirl is considered to be a bit of a bittersweet love story, following Stargirl Caraway, an eccentric but compassionate vegetarian at Mica Area High School in Arizona. The novel has over a million copies in print and is taught at many schools in the country, giving Montecito quite a possible built in audience for the movie. There's also room for a potential franchise for the studio. Spinelli has a sequel novel coming out later this year, Love, Stargirl.
Your Daily Blend of Entertainment News
Thank you for signing up to CinemaBlend. You will receive a verification email shortly.
There was a problem. Please refresh the page and try again.