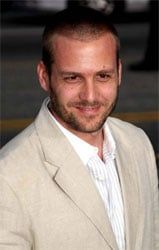 Frank Miller's adaptation of The Spirit suddenly had an explosive move forward. In the same day, Miller has found his leading man and gotten the film picked up for international distribution. Not a bad day at work, eh?
Based on the story by one of Miller's comic book heroes, Will Eisner, the movie tells the story about a police officer who fakes his own death in order to better fight crime. That officer will be played by Gabriel Macht, last seen in The Good Shepherd. Probably better known for his wife, Jacinda Barrett, this could be a career defining role for Macht who has also appeared in Bad Company and Behind Enemy Lines.
While Lionsgate holds the distribution rights domestically, Sony Pictures Worldwide has picked up the rights to distribute the film in France, Germany, Italy, Scandinavia, and Latin America, according to Variety.
This will be Miller's directorial debut, although he is said to have done a sizable amount of work on Sin City with Robert Rodriguez (who I wouldn't be surprised to see show up and offer Miller some help on The Spirit).
Your Daily Blend of Entertainment News