Spring Breakers Director's Next Film The Trap Has Built An All-Star Cast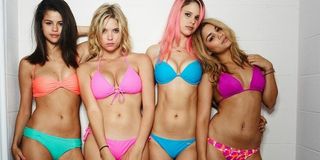 Harmony Korine has lined up a stellar cast for his next film The Trap, which is on the precipice of being purchased by Focus Features. The studio is currently negotiating for the U.S. rights to the film, while Idris Elba, Robert Pattinson, James Franco and Al Pacino have each signed up to appear in it, too.
But who are each of these actors going to play in Harmony Korine's follow-up to Spring Breakers? Here's a quick run-down:
According to The Wrap, Idris Elba has signed up to replace Jamie Foxx in The Trap. Elba will play a gangster rapper and the former friend of Benicio Del Toro's ex-con. The Usual Suspects actor's character is seeking revenge against Elba after he let him take the blame for a robbery that the pair committed together 14 years previously. But it also sounds as though Benicio Del Toro will be spending plenty of screen-time with ….
Robert Pattinson will be portraying a surfer who assists Benicio Del Toro in his pursuit to seek revenge against Idris Elba. The 28-year-old British actor has recently looked to branch out from his Twilight performances by working with more esteemed directors in the shape of David Cronenberg and David Michod, and Harmony Korine could be the perfect filmmaker to get the most unique portrayal out of the actor yet.
It isn't a surprise that James Franco is re-teaming with Harmony Korine. Franco gave arguably the most intriguing and complex performance of his career in Spring Breakers as the perpetually charismatic drug dealer Alien. In The Trap, Franco will play Elba's drug-addled manager, who sounds as if he will be as equally as idiosyncratic as his Spring Breakers character.
This one is a real doozy. For several years we've all been pining for Al Pacino to get his hands on a character or be in a film that will truly push his talents to the extreme, and we can only hope that Harmony Korine will do just that in The Trap, where he'll portray Benicio Del Toro's parole officer.
Details regarding The Trap's production and release schedule are still at a premium. But off the back of Spring Breakers' success and with such an impressive cast lined up it's safe to say that its shoot will be organised imminently.
Your Daily Blend of Entertainment News
Thank you for signing up to CinemaBlend. You will receive a verification email shortly.
There was a problem. Please refresh the page and try again.