Stan Lee Reveals His Favorite Marvel Cameo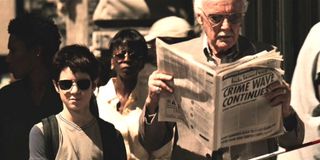 Stan Lee's Marvel cameos have become almost as infamous as the films that he pops up in. OK, that might be a tad hyperbolic, but there's no denying the fact that Lee's impromptu appearances are the source of much fascination amongst comic-book fans.
Lee has always be willing to discuss pretty much anything that is thrown his way, so when he was recently asked which of his many movie cameos was his personal favorite, he was never going to pass up the opportunity to provide an answer. The Marvel legend was asked the aforementioned question during a Twitter Q&A to promote Wednesday night's finale of Stan Lee's Superhuman's on History, and it turns out that audiences haven't even had the chance to see his favorite cameo yet.
Lee proclaimed, "It's in the new @Marvel @Avengers film which you can see next year. It's very funny --- worth waiting for." You can check out the exchange below:
Now a cynical man might say that Lee was just towing the company line by insisting that his favorite cameo comes in a movie that is yet to be released. This way people who find themselves tossing and turning at night as they try to decipher which one of Lee's cameos he prefers will now definitely go and see Avengers: Age Of Ultron. But, let's be honest, the sort of people who care that much about this kind of thing were always going to be first in line for the superhero sequel anyway.
Let's just hope that Joss Whedon sticks with Stan Lee's cameo this time around, though. In 2012's The Avengers, there was a rather amusing scene that saw Chris Evans' Steve Rogers/Captain America flirting with a waitress in a coffee shop, only for Lee to turn around and declare, "Ask for her number you moron." Unfortunately, it was deemed surplus to requirements and wound up on the cutting room floor. But if you haven't seen it you should really check it out because it's a nifty little sequence that helps to show just how isolated and out-of-sync Cap is with the modern world. You can check it out below:
In the end, Lee's Avengers cameo came in the shape of him turning to a news-camera after Loki and his army have done battle with Iron Man, Cap, Thor, The Hulk et al, and proclaiming, "Superheroes in New York, give me a break." You can take a look at all of Stan Lee's movie cameos in this handy video that one particularly impressive YouTube user took great time and effort creating.
You'll be able to compare each of these efforts to Lee's personal favorite when Avengers: Age Of Ultron hits cinemas on May 1, 2015.
What's your favorite Stan Lee cameo? Let us know in the comments below.
Your Daily Blend of Entertainment News
Thank you for signing up to CinemaBlend. You will receive a verification email shortly.
There was a problem. Please refresh the page and try again.