Star Trek Beyond's Director Shows Off Two New Aliens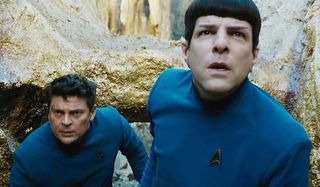 Even though it is set to drop this summer, in just a few months, Star Trek Beyond, the third film in the rebooted science fiction franchise, is back for some reshoots. We've already heard that the film has added at least one new actor, and director Justin Lin, who takes over the big chair from J.J. Abrams, just took to the internet to reveal a look at a couple of new aliens we'll encounter on our latest foray into places no one has gone before.
Today, April 5, marks "First Contact Day," also known as the day that humans and Vulcans first came into contact with one another in the year 2063, an event that went down in Bozeman, Montana of all places. To mark the occasion, Justin Lin (Fast & Furious 6) shared a photo of himself with two mysterious new additions to the Star Trek Beyond cast. While Lin doesn't reveal the identity of the two newbies, noting that news of their casting hasn't hit the public yet, he does tease that they are familiar faces, at least under all of those prosthetics and all of that makeup, and that he's worked with them before.
On his You Offend Me You Offend My Family web page, Justin Lin offered a free Star Trek Beyond t-shirt to anyone who correctly identifies the two actors. Right now there are a lot of guesses, ranging from Fast & Furious' Sung Kang and Community's Danny Pudi (Lin helmed a few episodes) for the smaller alien, to Dwayne "The Rock" Johnson, Vin Diesel, and Kim Kold for the giant, hulking, beast of an extraterrestrial.
It could very well be any of these actors underneath all of this makeup—like with Star Wars: The Force Awakens, we'll probably find out about all kinds of fun cameos and secret actors who show up after Star Trek Beyond hits theaters. As far as their in-movie identity, I would guess that they're in league with Idris Elba's new villain, Krall. They have a similar aesthetic to the new big bad that the crew of the Enterprise will have to face off against, and they certainly don't look all that friendly.
Whoever these new additions to Star Trek Beyond are, they join Shohreh Aghdashloo, who also signed up to play the High Command of the Federation of Planets in the Star Trek Beyond reshoots. The action sees Captain Kirk and company in the midst of their five-year mission to boldly go and all that, and it hits theaters on July 22.
Your Daily Blend of Entertainment News