Controversial Star Trek Fan Film Gets Vote Of Support From Justin Lin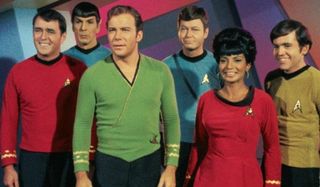 You may have heard that a group of Star Trek fans intent on getting their crowdfunded fan film made and seen recently found themselves embroiled in a lawsuit with the Hollywood juggernaut that is Paramount Pictures. But even though he is currently putting the final touches to a Trek film of his own, Star Trek Beyond, which has a substantially larger budget than the crowdfunded endeavour, director Justin Lin has now put his loyalties to one side and insisted that the controversial Star Trek fan film should still see the light of day. Lin took to the kangaroo court that is Twitter to voice his opinion, posting:
Because of Justin Lin's relationship with Paramount -- he wrapped directing the soon to be released Star Trek Beyond recently -- you might have assumed that he'd be fully on the side of his employers. But the bond between Star Trek and its fans runs so deep and is so passionate that the Fast & Furious 6 director knows he needs to keep them on board, as one bad move could lead to them turning on Star Trek Beyond over 3 months before it's actually released.
For those of you catching up, Paramount Pictures and CBS decided to sue the team of producers behind Star Trek: Axanar, a fan-funded Star Trek film led by Alec Peters, after they released a short film and started to solicit donations so that they could make a feature version of their effort. If they raised their intended target, Axanar would have been set in 2245, and would have revolved around the Federation's war with the Klingon Empire, which almost destroyed them This was before Captain James T. Kirk took over the U.S.S. Enterprise.
When Paramount and CBS tried to sue Axanar, the fan film and its producers fought back by insisting that they hadn't been specific enough about the "thousands" of copyright infringements that their film had committed. It was hoped that this would stop the studios in their tracks. However, instead they went over every possible detail and last Friday they filed an amended complaint that listed their extensive issues with Axanar.
While those in control of the studio are right that Axanar does extensively flaunt copyright rules, there's also a feeling of why crack down on the fan films now? Especially since Star Trek fans have been so fundamental in maintaining the popularity of the franchise over the last 50 years with efforts like these. We'll have to wait and see how this story develops, but those of you pining for a new Star Trek film are in luck, because Star Trek Beyond will be released on July 22, 2016.
Your Daily Blend of Entertainment News