Star Wars 7 Hasn't Even Opened And J.J. Abrams Already Won This Major Award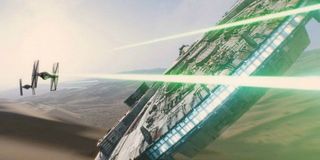 It's safe to say that when the teaser trailer for Star Wars: The Force Awakens was first released the whole world took a step back, and then screamed out in unison, "Fuck, yeah!" Well, it turns out that the Visual Effects Society were so enamoured with the teaser that they've decided to give J.J. Abrams an award, just under a year before The Force Awakens actually hits screens.
According to Deadline, the VES decided to honor J.J. Abrams for his impending re-launch of the hugely popular sci-fi franchise, as well as his work on a variety of other films and television shows too, which includes Star Trek, Star Trek Into Darkness, Mission: Impossible 3, Cloverfield, Super 8, Lost, Alias and Fringe. The VES are also rewarding Abrams and his merry band of Jedi creators for bringing so much more work to their members over the next few years too. That's because, just in case you haven't heard, eighth and ninth installments to the Star Wars franchise are planned too, as are multiple spin-offs. And while that's great for all of the hard-working visual effects employees out there, it probably means that the VES Awards are going to be hugely predictable for the next few years. In fact as the emcee for this year's award, all round hero/uber-nerd, Patton Oswalt noted, in 12 months time it will probably just be called the "Star Wars: The Force Awakens show."
Meanwhile, J.J Abrams also took the time to explain just how incredible it is living out the dreams of his infancy by overseeing the antics of Harrison Ford's Han Solo, Carrie Fisher's Princess Leia and Mark Hamill's Luke Skywalker on the world's biggest toy-set. The writer and director of The Force Awakens proclaimed:
Meanwhile, after being presented with the VES Visionary Award, by none-other than his Star Trek alumni, Zoe Saldana, Abrams not only thanked his parents and sister but also Star Wars producer, Kathy Kennedy. The latter for offering him the chance to direct Star Wars and his family for allowing him to blow up plenty of stuff, including his own sister. What a sappy so-in-so.
And at the moment it certainly looks as if Kathy Kennedy made the right choice in hiring J.J. Abrams to oversee Star Wars: The Force Awakens. Despite the huge hype and hysteria surrounding The Force Awakens, its first trailer was met with a chorus of delight by Star Wars aficionados and casual moviegoers. And there's no reason to think that the feature film itself won't simply add to the chaos and make Star Wars a legitimate franchise once again. We'll see if he's done just that when Star Wars: The Force Awakens is released on December 18, 2015.
Your Daily Blend of Entertainment News
Thank you for signing up to CinemaBlend. You will receive a verification email shortly.
There was a problem. Please refresh the page and try again.