Star Wars 7 As Told By Emojis Is Adorable And Clever, Watch It Now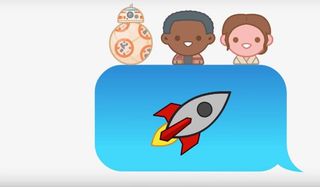 Cell phones and social media have completely changed the ways in which we communicate with one another. In the last few years, numerous forms of shorthand have become commonplace that would have been unrecognizable to us in another era. From the LOLs to the BRBs, new digital media has almost become its own language. Younger generations seem incredibly adept at picking up this language, because even high-concept sci-fi adventures like Star Wars: The Force Awakens can now be conveyed in something as simple as emojis. Check out the hilarious video below in order to see for yourself.
That video is nothing if not adorable. Released by Disney, the clip follows emoji versions of the characters from The Force Awakens as they make their way through the events of the movie. Eventually the action becomes too much for the confines of the screen, and the characters begin to riotously do battle with one another throughout the various settings menus of the Apple product they inhabit. Playing out almost like a game of charades, the adorable video seems to strike a similar tonal note as other wildly popular animated properties like Minions, or the acorn sequences from the Ice Age franchise. Minimal dialogue, but maximum humor.
No matter what you think of emojis, it's hard to deny the genius behind this short. In three minutes, the clip perfectly sums up the narrative of Star Wars: The Force Awakens while adding a humorous animated slant to the proceedings. It also manages to pull this off while not using a single spoken word. Of course, people who haven't seen The Force Awakens likely won't understand what's going on in the video, but it remains impressive that the short can summarize the film for those of us who have.
If you're a fan of this video, that's probably pretty good news for the folks over at Sony. Emojis have become such a ubiquitous form of communication that The Emoji Movie is currently slated to hit theaters some time next year. As of right now, we don't know much about the animation style of the coming emoji-based film, but this Star Wars video shows that there's ample artistic potential with minimalist images such as these.
Even those of you who do not use emojis in everyday life will probably get a great deal of enjoyment out of the above video. It's funny, it's adorable, and it perfectly captures the whimsical spirit of the Star Wars universe. With many more Star Wars films on the way, we're hoping that this won't be the last emoji recreation that we get a chance to see.
Originally from Connecticut, Conner grew up in San Diego and graduated from Chapman University in 2014. He now lives in Los Angeles working in and around the entertainment industry and can mostly be found binging horror movies and chugging coffee.
Your Daily Blend of Entertainment News
Thank you for signing up to CinemaBlend. You will receive a verification email shortly.
There was a problem. Please refresh the page and try again.